---
Guardiola does not want to keep German international at the Allianz Arena.
Bayern Munich have effectively transfer listed striker Mario Gomez after new head-coach Pep Guardiola told the German international he does not feature in his plans for the new season.
Gomez has been linked with Premier League duo Chelsea and Man City, but Serie A outfit Fiorentina are leading the chase for the 27-year-old.
Despite having bagged an impressive 113 goals in 174 appearances for the Bavarians, the former Stuttgart striker is surplus to requirements at the Allianz Arena and was left out of the squad for the club's first two friendlies under Guardiola, a 15-1 win against a team of supporters club members and 9-1 victory over 7th division outfit TSV Regen.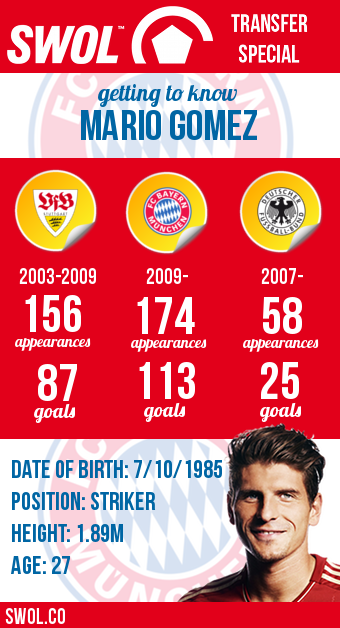 Bayern sporting director Matthias Sammer told Bild: "Gomez has spoken to Guardiola, and Pep has decided that Mario won't play. Everything else has not been decided yet."
Gomez has made no secret of his desire to leave the treble winners, stressing that he wants to play "100 per cent of games".
Despite interest from Stamford Bridge and the Etihad Stadium, the Viola are in pole position, with Gomez's agent, Uli Feber, admitting his client favours a move to Italy.
"I hope we can make the next step in the upcoming days," Ferber told German magazine Kicker.
"Mario prefers a move to Italy."