---
Schalke's Draxler has been spotted in north London.
Arsenal are favourites to sign Schalke 04's Julian Draxler next summer, according to former footballer Jan Aage Fjortoft.
Th reliable Fjortoft, who now works for German TV, says Draxler was left impressed by a tour of the Gunners' training facilities and the Norwegian pundit believes the North London outfit are favourites to land Draxler next summer.
Arsenal's German contingent, including Mesut Ozil, Per Mertesacker and Serge Gnabry, are thought to be crucial in Draxler's desire to move to the Emirates Stadium but the playmaker will cost €45m (£37m).
Arsenal still favourite to get Draxler (Clause: summers-45 mill euro) – Impressed by Arsenal training ground – German players #afc crucial

— Jan Aage Fjortoft (@JanAageFjortoft) January 5, 2014
Draxler has had a tough fall due to injuries/lack of form. Looks like attention from big clubs and high expectations have influenced him

— Jan Aage Fjortoft (@JanAageFjortoft) January 5, 2014
Draxler wants to play central midfielder, but ends up playing left and cuts inward with his right foot. #afc #NotAStriker

— Jan Aage Fjortoft (@JanAageFjortoft) January 5, 2014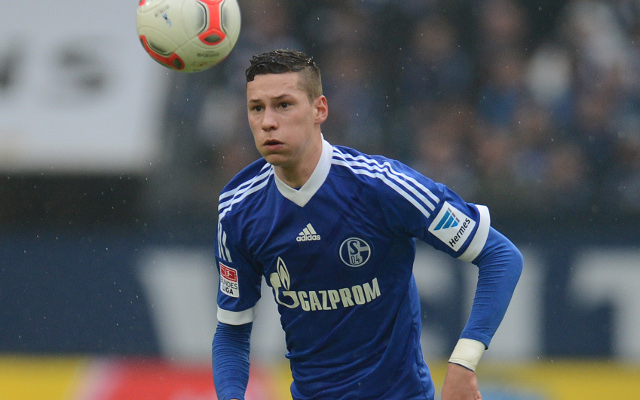 Draxler's has previously made no secret of his interest in joining Arsenal.
"Schalke have no intention to sell me and my exit clause only takes effect in the summer," Draxler is quoted as saying by Goal.com last month.
"I have always said English teams are very big clubs and Arsenal is of course one of them," continued the skilful attacking midfielder.
"Of course I sometimes speak to [Arsenal players] Mesut [Ozil] or Per [Mertesacker] about the team, about the club, and they always have good words and they tell me nice things.
"You never know what happens in the summer but Arsenal is a very, very nice team. They always have very young players, they play attractive football and that's what I like."
As Fjortoft points out, the 20-year-old would not solve Arsenal's striking crisis. Draxler has made 20 appearances for Schalke this season, primarily from the left wing.
But the German international has hinted he would prefer to be playing as a number ten.
"I've now come to terms with the fact that I won't always play in the no.10 position," Draxler is quoted as saying by Bleacher Report.
"We do play a flexible system, however, which means I can keep popping up in the centre.
"It's understandable when you sign a player of Kevin's class that you use him in his strongest position.
"And I can also understand Max playing centrally. His abilities are put to better use there than out wide."
SEE ALSO: The top 10 best Arsenal games of all time
Read more Arsenal transfer news.