---
Potters to investigate training ground incident.
Stoke City have launched an internal investigation after Glen Whelan left a pig's head in teammate Kenwyne Jones' locker at training on Friday.
"The Club takes seriously reports of an incident at our Training Ground this afternoon," read a statement on the Potters' official website.
"A full internal investigation will be carried out and those responsible for any unacceptable behaviour will be dealt with in accordance with the Club's disciplinary procedures."
According to the Daily Mirror, a furious Jones smashed the windscreen of Whelan's car after the incident, before defender Brek Shea sent the following tweet and picture.
Locker room banter gone wild!!! #SAW instagram.com/p/ZadjLnobaP/

— Brek Shea (@BrekShea) May 17, 2013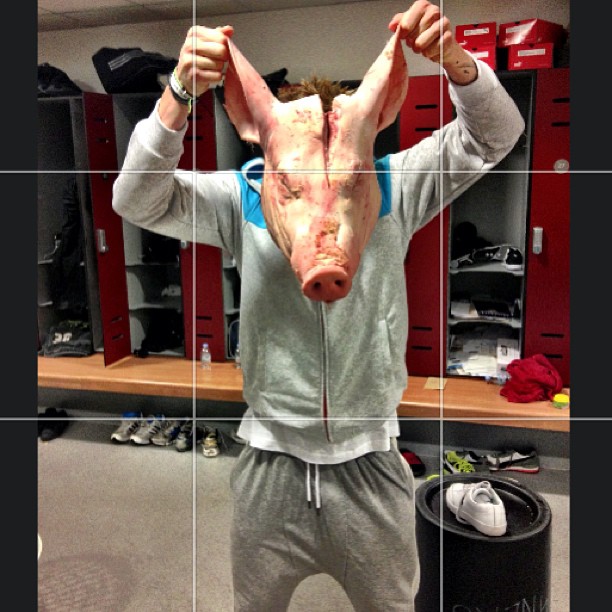 The incident, which was reportedly intended as an end-of-season practical joke, took place at Stoke City's Clayton Wood Training Ground.
Jones' partner spoken about the incident on twitter, insisting it was not a joke and was offensive to the striker's religious beliefs.
Big men acting like kids a pigs head is not a prank its just disgusting!!!!! Wtf??? I don't get how was that sup 2 be funny!!!! Really???

— Kissa Abdullah (@kissakj) May 17, 2013
Listen 4 all those who don't get it lay the f! back! Where I come from that's not anywhere close 2 funny! Esp not knowing religious beliefs

— Kissa Abdullah (@kissakj) May 17, 2013
It just takes a minute to be sensitive to someone's beliefs no one says u can't have a sense of humour but let it be a joke! This wasn't!

— Kissa Abdullah (@kissakj) May 17, 2013
Tony Pulis' side lost their final home game of the season 2-1 to Tottenham last week and face Southampton at St Mary's in Sunday's season finale.
Stoke could still finish as low as 17th in the Premier League.