---
Alexis Sanchez will not be available to feature in Arsenal's season-opening Premier League game against West Ham United on Sunday.
The Chile international was never expected to be back in time to prepare for the Hammers clash, having been granted an extended period of leave following this summer's Copa America.
However, his return to the Emirates Stadium was pushed back slightly further this week, when he had to stay an extra night in Paris while waited for a new visa to be processed on Monday.
Alexis is still likely to be back in North London this week.
Last month Wenger said: "It usually takes three weeks to be competitive. He will miss certainly the first game of the season but with Alexis, it takes a little bit less."
Based on that logic, Alexis will probably miss the games against West Ham, Crystal Palace and Liverpool, but he should almost certainly be ok to face Chelsea at Stamford Bridge in September.
Alexis probably wasn't too concerned at being made to spend an extra night in Paris, if this photo is anything to go by…
SEE MORE:
Every NEW Premier League kit RATED: 40 strips ASSESSED
Free transfers STILL unattached: ex-Chelsea & Liverpool men AVAILABLE
Top 10 loan signings this season: Arsenal quintet, Liverpool duo, Man U FLOP & Chelsea kids will SHINE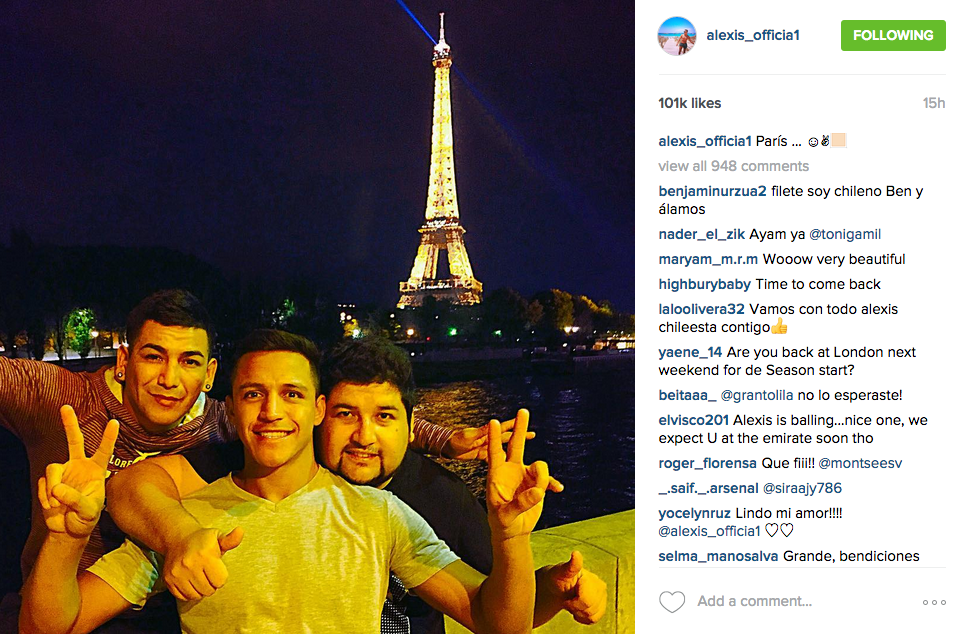 SEE ALSO:
New Man United third kit – 2015-16 alternative strip is rather UGLY
Man United's new formation: 3 different 4-3-3 styles LVG may play this season
Chelsea boss Jose Mourinho agrees move for 41-goal striker, despite calling deal a "big mistake"