---
Last week Manchester United manager Louis van Gaal revealed that 4-3-3 will be his preferred formation in the 2015-16 season.
He told reporters: "More or less 4-3-3. We played that already last season, in the second half of the season, and I have said that is the system I want to use.
"We played in our shape [on tour] and played how we have to play. That's also where I have been very satisfied."
The 4-3-3 formation is a very flexible system, while Van Gaal has the variety in his squad to make it work in many different ways.
Here are three brands of 4-3-3 the Red Devils could use…
3)
The old-fashioned 4-3-3, with three players in genuine striking positions. Marouane Fellaini as the target man, providing an aerial threat, as well as creating space and chances for Wayne Rooney and Memphis Depay. Michael Carrick and Morgan Schneiderlin or Schweinsteiger provide the centre-backs with protection, allowing Juan Mata to pull the strings, while also giving Van Gaal the opportunity to pick two of his more attacking full-backs.
David de Gea will clearly be the no.1 goalkeeper, unless he is sold to Real Madrid, in which case new signing Sergio Romero will start between the sticks.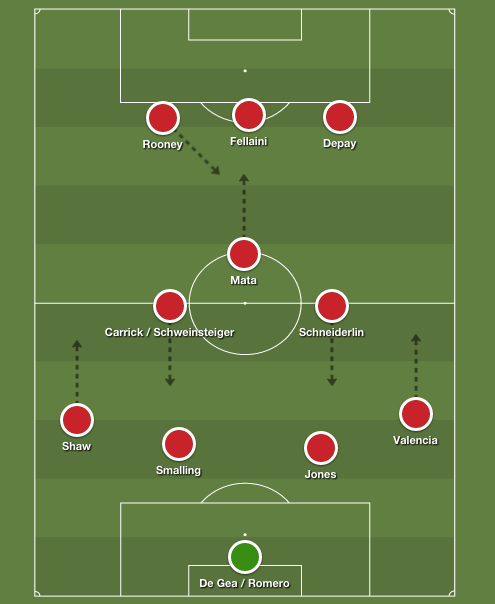 SEE ALSO: Man United's striking prayers answered as LEGENDARY forward admits he's moving