---
Arsenal's Kelly Smith was not shy with her thoughts about her ankle injury, which occurred in the April 26 win against Sunderland.
SEE MORE
Fanatix Phone App
Kelly Smith retires from England duty as top goalscorer
Arsenal leads for transfer of Juventus' Daniele Rugani
Smith published a blog post earlier today describing her anger over the tackle by Abby Holmes that required ankle surgery from three torn ligaments and three to four months off the pitch.
The 36-year-old captain and assistant coach claims this injury could have ended her career
Luckily, Smith had retired from international play in February, hence will have no World Cup games to miss this summer. Nonetheless, Kelly will still miss a large chunk of club games.
"While she gets a three-match ban I, in effect, get a 15-game ban in the league as well as cup games," Smith wrote in her blog post.
Kelly argues that Holmes is "clearly not good enough to be playing at this level", and barely suffered any consequences for her nasty tackle. Holmes did receive a red card, but Kelly's blog surely starts the conversation that the three-game suspension is far from fair.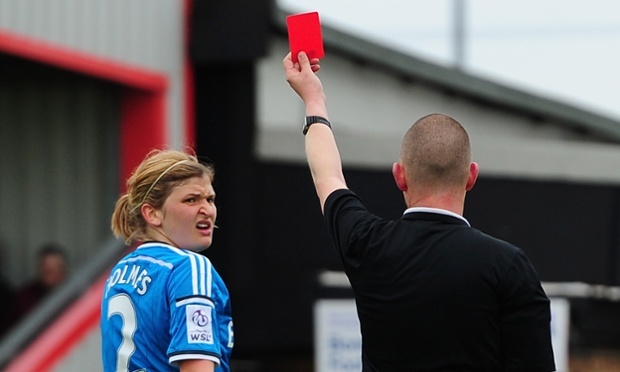 Kelly also claims that Holmes is clearly not good enough to be playing in the league, and that her tackle was "malicious".
"It was a disgraceful tackle and one fully intended to hurt me," she said. "I have had a lot of reaction from both my team-mates and others in the game and the verdict is the same: Holmes shouldn't be playing in this league."
This is not Smith's first major injury either. She has also broken her leg twice from being tackled, so clearly there is a problem going on in the women's league.
"I am sick of being on the receiving end of challenges that are full-on physical attacks," Kelly added. "I am absolutely furious and can't get that tackle out of my head."