---
See who fanatix thinks will win the main event and why this weekend.
Fight stats
Name: Chris Weidman
Record: 11-0
TKO/KO: 45%
Submission: 27%
Decision: 27%
Height: 6'1″
Weight: 185lbs
Name: Lyoto Machida
Record: 21-4
KO/TKO: 38%
Submission: 10%
Decision: 52%
Height: 6'0″
Weight: 185lbs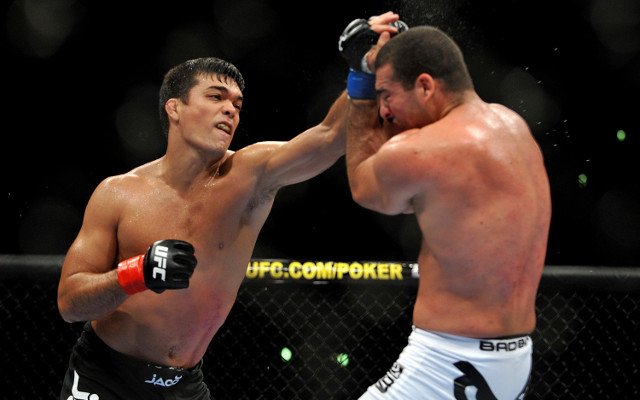 Chris Weidman has been the champion of the UFC middleweight division for several months now, but he still has many pundits and fans wondering if he deserves to at the top of the tree.
Many of those questions will be answered this weekend in the main event at UFC 175.
There Weidman will defend his belt for the second time when he faces former light heavyweight champion Lyoto Machida as he continues to make his impressive new career path at 185lbs.
On paper Machida looms as the most significant challenge Weidman has faced since he shocked the world with his first win over Anderson Silva last July.
And really it is his chance to move out from the shadow of the former champion, as he first title defence ended before it began as Silva was carried out of the cage with a badly broken leg.
Machida has been born again since he dropped down a division, which was a smart career move because the man at the top of the pile at 205lbs, Jon Jones, does not seem to be going anywhere anytime soon.
'The Dragon' earned his first win at 185lbs against Mark Munoz in October last year when he earned knockout of the night for his head kick finish.
He then backed that up with a back-and-forth battle against Gegard Mousasi in February 2014 which resulted in a decision victory to Machida.
This fight however, between Machida and Weidman, looms as a very interesting battle.
On the feet Weidman will look to pressure his opponent, always coming forward and always throwing combinations in a bid either to do damage on their own or set up bigger shots.
His cardio should not be a problem and he should be right to perform this game-plan for five rounds if need be.
Weidman lands 3.15 significant strikes per minute compared to Machida's 2.64 but the rest of their stats on the feed show that the Brazilian will most likely use his counter-punching style.
Machida only absorbs 1.39 significant strikes per minute compared to the champ eating 1.9, while also having an overall 54 per cent striking efficiency, 12 per cent more than Weidman.
However, if the fight goes to the ground it should be Weidman with the advantage despite Machida having a black belt in Brazilian Jiu-Jitsu.
Weidman averages four takedowns compared to Machida's 1.54, is accurate three per cent more of the time, has defended 100 per cent of takedowns in his blooming mixed martial arts career and attempts 1.87 submissions compared to Machida's 0.51.
All of which adds up to a close fight that could go either way this weekend at UFC 175, but for us, fanatix tips Weidman to win by split decision.