---
Duel code star reaches out to sacked Cronulla five-eighth.
If anybody knows how to turn around their damaged career it is Lote Tuqiri.
The former Wallabies star left the 15-man code in disgrace despite at one stage being the poster boy for the national side after several off-field incidents.
In 2009 his contract with the Australian Rugby Union was terminated when he violated the terms of his contract and brought a woman back to his motel room while on tour.
Last year he was also linked with having an affair with a reality TV star, and while none of the incidents were criminal in their nature, it was enough to tarnish his reputation and see him return to rugby league.
Carney has issued a formal complaint about the handling of his sacking from the Cronulla Sharks after a lewd photo of him attempting to urinate into his own mouth, went viral last weekend.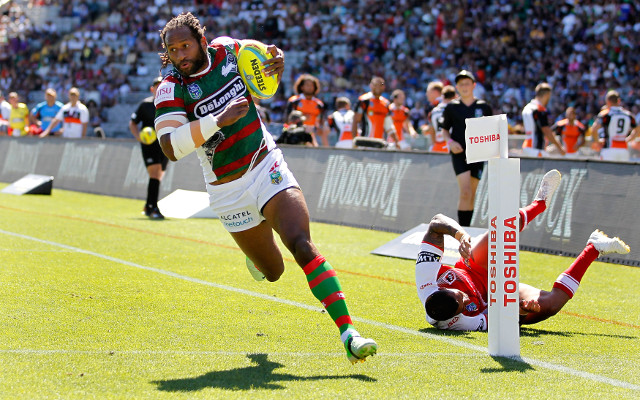 It is the third time that Carney will have to try and repair his shattered image off the field, and Tuqiri has backed him to be able to do it.
"I reckon he can bounce back, he has done it before, but it will certainly be tough for him," Tuqiri said. "I don't know how he is going but he has been here before and he'll have to do his time.
"He'll be back though, he's a great footy player and a good bloke too.
"I feel sorry for him because it's definitely not a thing you want out there in public, who takes a camera into a bathroom?,'' he said.
"A person normally wouldn't take a camera into any bathroom in general life so I find it hard to understand that sort of stuff can be allowed to get out and go on the internet, but that's the kind of world we live in."
While Tuqiri also had some advice for the fallen star, that perhaps he should look at his support network around him, as he faces the real possibility of his football career being over at 28 years of age.
"He just has to get back into the right headspace and for him have some direction to know where he is going," he said.
"I know that's probably tough for him to figure out right now but hopefully he has some good people around him and once he has that direction to know where he is going that will help.
"He's probably too trusting with people around him.
"You have to keep your friends pretty close and can't have too many of those acquaintances hanging around, you have to brush them," he said.