---
Floyd Mayweather and Manny Pacquiao will go to war on May 2 at the MGM Grand in Las Vegas, and we take a look at their biggest fights to date ahead of the biggest night in boxing history.
READ MORE:
Muhammad Ali is Team Pacquiao: Legendary heavyweight backs Pac-Man.
Mayweather says Pacquiao is reckless and makes mistakes: Floyd will look to exploit them on May 2.
Brook wants Mayweather fight: IBF champion wants the best in the division.
Both men have overcome significant obstacles through their career which have enabled them to establish themselves as the pound-for-pound greats of the sport. Here are five fights each star was involved in which took them to the very top.
Mayweather vs De La Hoya, 2007
The theory when these two met was that De La Hoya was too big for Mayweather, and his physical advantages would be too much for the American to overcome.
However, despite the judges scoring this one closely, with one of the three handing a points win to De La Hoya, it was Mayweather who prevailed with his sharp counter-punching and ability to keep up his relentless pace from the first to last round.
Mayweather vs Hatton, 2007
With his legion of fans taking over Vegas, Hatton was left frustrated by referee Joe Cortez' continual interference as he wasn't allowed to get inside and work on Mayweather.
As he fell behind on the scorecards, he rushed in recklessly and was felled by a hook in the 10th round before the fight was called off shortly after with Mayweather proving a point against an attack-minded and powerful opponent.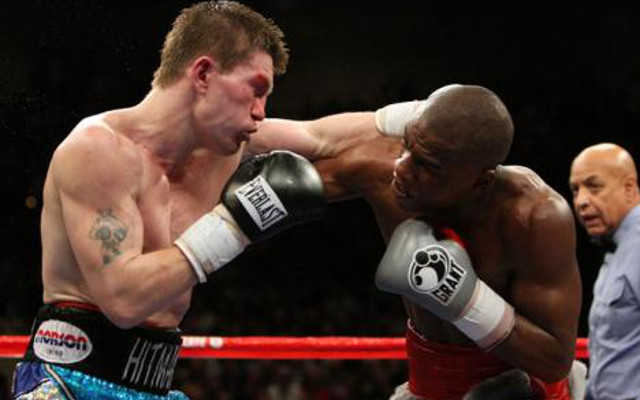 Mayweather vs Marquez, 2009
Returning to the ring after a 21-month sabbatical, Mayweather dealt with Marquez and his big shots and returned fire to secure a wide points victory on all three judges' scorecards.
After years of waiting for Mayweather-Pacquiao, the best way to compare and contrast them is to look at fellow opponents, and 'Money' needed just one attempt to put Marquez away while the Mexican took on Pac-Man four times in total.
Mayweather vs Cotto, 2012
Cotto was renowned for getting into ferocious dogfights and the same was expected against Mayweather. However, his forward-thinking approach was continuously stopped in its tracks despite enjoying some success in the middle rounds.
Nevertheless, Mayweather's sharp and efficient hitting and elusiveness sealed another emphatic points win against yet another opponent that was expected to cause him significant problems.
Mayweather vs Alvarez, 2013
Canelo was tipped to be the biggest threat to Mayweather in a long time, but the Mexican superstar was dealt a lesson in this bout and Mayweather cruised to a win on the scorecards while one judge ludicrously had it down as a draw.
The usual sharp and precise counters were coupled with an ability to bully a bigger opponent, and Mayweather made this a walk in the park before producing an improved performance against Marcos Maidana in the second of their two fights.