---
Chris Scott gets one up on brother and North Melbourne coach Brad in family showdown.
A goal to Geelong star Jimmy Bartel with time running out has sealed a four-point win for the Cats against North Melbourne at Etihad Stadium.
But the other big talking point after the full-time siren the roof at the indoor venue remaining open, with Kangaroos coach Brad Scott angrily confronting an official as to why.
With the forecasts calling for fine weather the retractable roof at the venue was left open, but when the fickle Melbourne weather hit the ground it brought the game down into a tough slog around contested possessions.
Despite getting the win, Geelong coach Chris Scott agreed with his brother and said the roof should always be closed  to ensure the best possible conditions.
"I don't have a lot of control over that, we have an amazing stadium but I think the roof should be able to close all of time," he said,
"The only probably I have with this stadium when the roof is open and the sun is shining the players can't see."
Brad Scott was more succinct with his words, saying the controversy cannot be allowed to happen again.
"Just close it, it had a negative impact on the game, but when the sun is shining the fans hate it, the broadcasters hate it," he said.
"It embaressing for the competition that it is raining at an indoor stadium."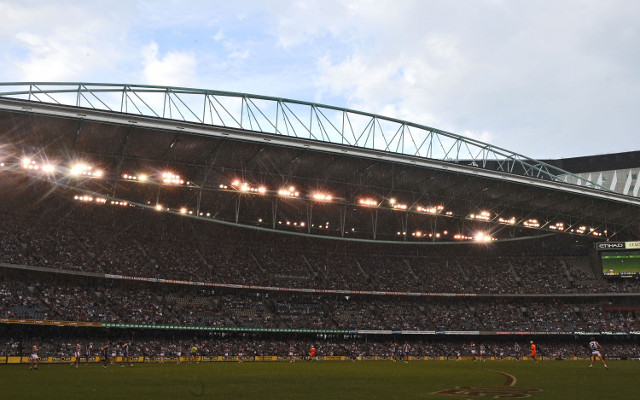 The controversy partially overshadowed a tremendous victory to the Cats during the first of three blockbuster games on Sunday in the AFL.
The Kangaroos were outstanding in the first half as they skipped out to a 41-point lead against their more-fancied rivals.
However, a seven goal third term to the Cats brought them right back into the contest where they finished the Roos off, bagging another 3.8 in the final term to seal the heart-stopping win.
The victory is the Cats second for the year after defeating Hawthorn int he first round by seven points, and they will look to take on Carlton who were defeated by Collingwood at the MCG.
Despite competing well against two of the best teams in the competition, North Melbourne are staring down an 0-3 start to their season as they travel to take on the reigning premier Swans next weekend.
Check out the highlights of the match below: