---
Dallas had made the offer before their win over Chivas USA.
FC Dallas will be cutting 71% from their ticket prices for the next home game against the San Jose Earthquakes after an offer they made worked out nicely for Dallas fans.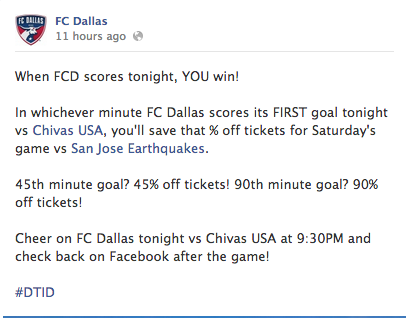 Dallas had promised to slash a percentage from their tickets to correlate exactly with the minute in which the team scored. The board would have been hoping for an early goal, the fans a late winner. In the end it worked out in the fans favour when Blaz Perez equalised in the 71st minute, meaning Dallas fans will get 71% off tickets at the next home game.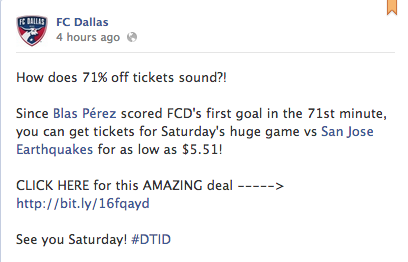 FC Dallas' FC Dallas Stadium has a capacity of 20,000. So far this season the side have managed to pack in an average of 16,000 fans every week as they make a push to cement a Western Conference playoff spot. In fact, their 12 per cent increase in average attendance since 2011 is a league high, which makes the club's decision to put on such a risky promotion slightly curious.
An early goal from Chivas' Bryan de la Fuente may have had Dallas momentarily worried, but late goals from Blas Perez, David Ferreira and Ramon Nunez saw their side through, an impressive comeback considering the Texan's had lost Jackson to a sending off in the 85th minute. The win ends Dallas' painful 11-game run without a win.