---
Tottenham boss must make a choice between success in the Europa League or qualification for next season's Champions League.
With the international break upon us, Tottenham boss Andre Villas-Boas has some much-needed time for reflection.
The games have been coming thick and fast for Spurs and, after a run of 12 matches unbeaten in the league, Villas-Boas watched his side slump to a third consecutive defeat against Fulham on Sunday, his worst run in charge at White Hart Lane.
The loss dealt Spurs a huge blow in their quest for Champions League qualification and the Portuguese now faces a tough choice: Europa League or top four?
To continue relentlessly pursuing both appears foolhardy.
Villas-Boas understandably appreciates UEFA's secondary club competition more than most and certainly more than his predecessor Harry Redknapp, who treated Spurs' involvement in Europe with a disinterest bordering on contempt last season.
At 33, Villas-Boas became the youngest coach ever to win a UEFA club competition when he claimed the Europa League with Porto. The club's league form remained unaffected by the rigours of midweek European football, as they simultaneously triumphed in the Primiera Liga, going the entire domestic season unbeaten.
With Tottenham, however, he must decide between domestic and European success.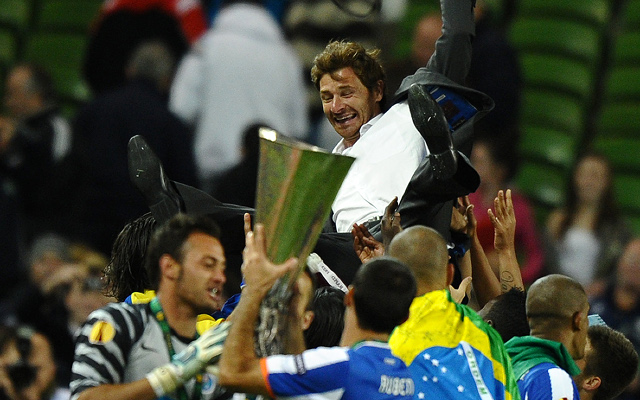 While winning Spurs' first European silverwear since 1984 would represent a fabulous first season for Villas-Boas, there is an unmistakable sense that the top four "trophy" remains more important to chairman and supporters alike.
Following the lacklustre display against Fulham, Villas-Boas did his best Redknapp impression, insisting that Thursday's arduous European exploits in Milan were not to blame for the team's performance.
Redknapp took a similarly blinkered view last season, when critics accused his lack of rotation and  the on-going speculation linking him with England job for Tottenham's dismal form during the run-in.
As then, it is hard now to avoid the feeling that Villas-Boas is in a state of denial; there is mounting evidence that the manager is so determined to succeed in both competitions, he is ignoring the limitations of his squad.
Spurs were battered for 120 minutes against Inter and yet Villas-Boas made just five changes for the visit of Fulham, one of which was in goal.
Admittedly, the chairman's failure to back his manager in the January transfer market has left Villas-Boas with limited options but fatigue played a part on Sunday and it will continue to afflict the core 17 members of Spurs' first team squad.
After the international break, Spurs travel to Swansea before hosting Basle five days later in their Europa League quarter-final first leg. Everton ten travel to White Hart Lane in a match that could see the Toffees leapfrog Spurs in the table.
The return leg at Basle follows four days later, and Tottenham then travel to Chelsea in another crucial game in the race for the top four.
Cliche or not, this is make or break time.
As it stands, Tottenham's fate in the league remains in their own hands but it is difficult to see the club retaining their position in the Champions League qualification spots while Villas-Boas continues to play his strongest eleven in Europe.
Tottenham boast just two strikers at present, both of whom are hopelessly off-form, while England duo Michael Dawson and Aaron Lennon have joined Sandro and Younes Kaboul on the sidelines.
A third consecutive late season collapse would be unbearable for Spurs fans, particularly when there has been so much promise under Villas-Boas' stewardship up until now.
The young tactician is a man of his word and, after repeatedly insisting that Spurs want to win the Europa League, he would lose some face if he picks a weakened team for the up-coming double-header with Basle.
To do so might just help Spurs keep their top four place, however.