---
England secure memorable victory as visitors crumble to embarrassing total.
England have crushed New Zealand in the first Test match of the series after bundling the visitors out for just 68 – a full 170 runs short of their target.
Day four loomed as difficult one for England captain Alastair Cook as he looked to defend a low total, but pace duo Stuart Broad and Jimmy Anderson made their skipper's job much easier.
Broad finished the second innings with 7-44 off 11 overs in what was a sensational effort by the right-hand seamer, as he ripped through the Kiwis' top-order to shatter any chance they had of victory, thus earning him the man-of-the-match.
Jimmy Anderson rounded out his excellent game after chiming in with another two scalps to finish the Test with seven.
Both Anderson and Broad created history with their joint-performance in the second innings, as it was the first time an English bowling duo had dismissed a side between them in more than 75 years.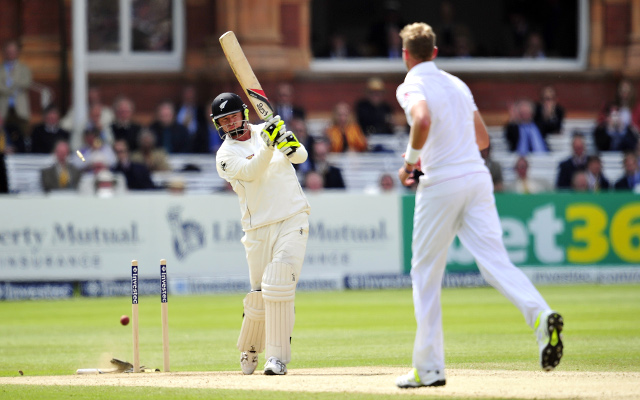 The collapse by the New Zealand order was typified by the last batsman to fall, in what was one of the more bizarre wickets in recent memory.
Neil Wagner skied a hook-shot from the bowling of Anderson towards fine-leg, causing a mad scramble from both the slips and the man stationed on the boundary.
The chance was dropped but quickly fired into Anderson who found Wagner at mid-pitch unsure if Trent Boult wanted a second run.
To make sure of the result, Anderson ran to the stumps at the non-strikers end to end the Test match in unbelievable fashion.
The loss for New Zealand will come as a bitter pill to swallow for Brendon McCullum and his side, after they played almost perfect cricket for three days, only to see it all unravel inside five hours.
England's dominance largely overshadowed Tim Southee's bowling performance which got his side back into the match at the end of the third day.
With conditions that suited a ball pitched full-of-a-length, Southee earned the excellent figures of 10-108 for the game.
"We came into today with high hopes of winning tomorrow but the way England bowled was outstanding and created an element of panic," McCullum said.
"During those first couple of days we had periods of domination. I'm proud of the guys to get us into a position to chase 240, it shows how far we've come but we still have a way to go. Tim Southee deserved more than we gave him today."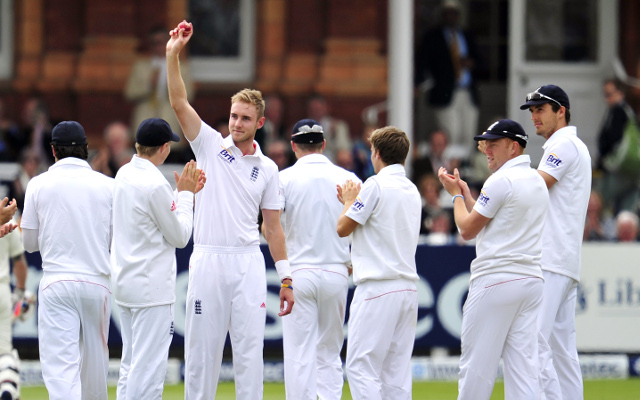 The England skipper paid tribute to his side's batsman who stood up and helped get their back into the game, along with his two pacemen.
"Both sides were nervous this morning. We spoke about that's why you play cricket. We wanted a few more runs this morning but the way Broad and Jimmy bowled was outstanding," Cook said.
"Broad has all the attributes to be a world-class bowler, when he gets it right, like today he's very hard to face. Joe Root had another great game, he stood up in that second innings. And Jimmy as well, a fantastic achievement to take 300 Test wickets. He's a captain's dream."
New Zealand will need to regroup quickly ahead of the second Test starting on Friday at Headingley.
England v New Zealand
Played at Lords
Toss won by England
England 1st Innings 232 (T Southee 4-58, N Wagner 3-70)
New Zealand 1st Innings 207 (R Taylor 66, K Williamson 60; J Anderson 5-47, S Finn 4-63)
England 2nd Innings (overnight 180-6)
A. Cook c Brownlie b Boult 21
N. Compton b Wagner 15
J. Trott b Williamson 56
J. Root b Southee 71
J. Bairstow b Southee 5
M. Prior c sub (Guptill) b Southee 0
S. Finn c sub (Guptill) b Southee 6
I. Bell c Brownlie b Southee 6
S. Broad not out 26
G. Swann c McCullum b Southee 1
J. Anderson c Southee b Williamson 0
Extras (b3, w1, nb2) 6
Total (all out, 68.3 overs, 330 mins) 213
Fall of wickets: 1-36 (Cook), 2-36 (Compton), 3-159 (Root), 4-167 (Bairstow), 5-171 (Prior), 6-171 (Trott), 7-183 (Finn), 8-200 (Bell), 9-210 (Swann), 10-213 (Anderson)
Bowling: Boult 15-3-56-1; Southee 19-4-50-6; Wagner 13-2-44-1 (1nb, 1w); Martin 13-2-40-0 (1nb); Williamson 8.3-2-20-2
New Zealand 2nd Innings (target 239)
P. Fulton c Prior b Broad 1
H. Rutherford b Broad 9
K. Williamson c Finn b Broad 6
R. Taylor c Cook b Broad 0
D. Brownlie c Cook b Anderson 5
B. McCullum lbw b Broad 8
BJ Watling c Trott b Anderson 13
T. Southee c Root b Broad 7
N. Wagner run out (Bairstow/Anderson) 17
B. Martin b Broad 1
T. Boult not out 0
Extras (lb1) 1
Total (all out, 22.3 overs, 114 mins) 68
Fall of wickets: 1-1 (Fulton), 2-16 (Rutherford), 3-16 (Taylor), 4-21 (Williamson), 5-25 (Brownlie), 6-29 (McCullum), 7-41 (Southee), 8-54 (Watling), 9-67 (Martin), 10-68 (Wagner)
Bowling: Anderson 11.3-5-23-2; Broad 11-0-44-7;
Result: England won by 170 runs
Series: England lead two-match series 1-0
Remaining Fixture
May 24-28: Second Test, Headingley
Video highlights below: