---
Home side's top-order fights back to close out a second enthralling day's play.
England's captain Alastair Cook and Kevin Pietersen ensured their side were back in the the hunt to win the first Test of the Ashes series, after finishing at the close of play at 80-2 with a lead of 15.
After dominating early in the day with the home side ripping through the Australian batting line-up, to see them at one stage be 117-9, Ashton Agar became the story of the day in scoring 98 on debut coming in at number 11.
Because of Agar's innings and an important 81 from Phil Hughes, the Australian's led by 65 runs.
After tea Cook and Pietersen set about putting their side in front with the experienced pair looking settled at the crease.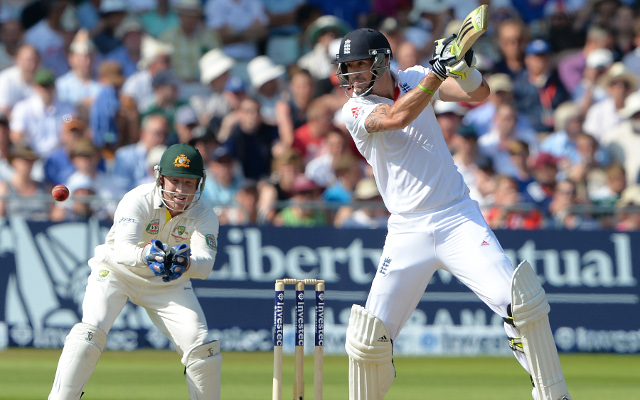 Peter Siddle was brought back into the attack in the hope of repeating his first day heroics, and while there was a hint of reverse-swing, England continued to set the pace of the innings.
After battling a niggling injury, Shane Watson was eventually given a chance to bowl after 20 overs, in a bid to try and break the blooming partnership which had reached 37.
Michael Clarke continued to change up his bowlers in a bid to keep Cook and Pietersen on their toes, with spells of three of four overs commonly used.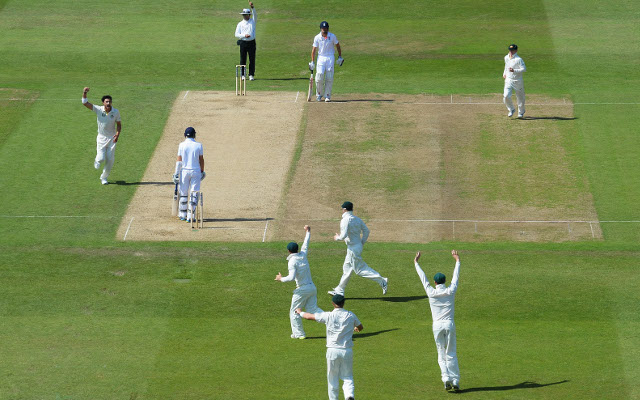 The Trent Bridge pitch began to slow down in the final session, and when that was combined with less than aggressive lines by the Australian bowlers, the action slowed down from its hectic pace earlier in the day.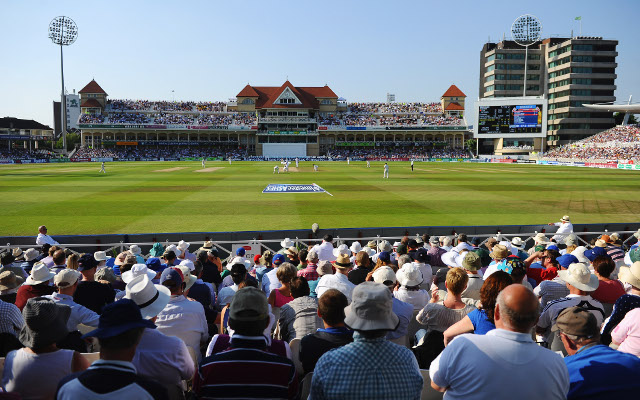 In a sign of the England side's mentality, they only scored one run between overs 20 and 25.
But rather than looking flustered due to their slow run-rate, Cook and Pietersen were happy to play the waiting game to try and get through to the end of the day's play only two wickets down.
In what was the only half-chance given by the pair, Pietersen edged off the bowling of Agar with the ball flying low and fast, before hitting Brad Haddin on the pad.
Mitchell Starc was the only Australian bowler to taste success so far in the second innings with 2-15 off 13 with four maidens.
The pitch going forward looks set to play into the hands of Agar and Graeme Swann, with the pace and bounce noticeably lessened in the closing stages of day two.
Cook finished on 37 while Pietersen scored 35 before the close off play with their budding partnership crucial to the home side's chances on day three.
Scorecard
England v Australia

Played at Trent Bridge
Toss won by England
England 1st Innings 215 (P Siddle 5-50; J Pattinson 3-69)
Australia 1st Innings (overnight: 75-4)
S. Watson c Root b Finn 13
C. Rogers lbw b Anderson 16
E. Cowan c Swann b Finn 0
M. Clarke b Anderson 0
S. Smith c Prior b Anderson 53
P. Hughes not out 81
B. Haddin b Swann 1
P. Siddle c Prior b Anderson 1
M. Starc c Prior b Anderson 0
J. Pattinson lbw b Swann 2
A. Agar c Swann b Broad 98
Extras (lb15) 15
Total (all out, 64.5 overs, 293 mins) 280
Fall of wickets: 1-19 (Watson), 2-19 (Cowan), 3-22 (Clarke), 4-53 (Rogers), 5-108 (Smith), 6-113 (Haddin), 7-114 (Siddle), 8-114 (Starc), 9-117 (Pattinson), 10-280 (Agar)
Bowling: Anderson 24-2-85-5; Finn 15-0-80-2; Swann 19-4-60-2; Broad 6.5-0-40-1;
England 2nd Innings
A. Cook not out 37
J. Root c Haddin b Starc 5
J. Trott lbw b Starc 0
K. Pietersen not out 35
Extras (b1, nb2) 3
Total (2 wkts, 43 overs, 191 mins) 80
Fall of wickets: 1-11 (Root), 2-11 (Trott)
To bat: I Bell, J Bairstow, M Prior, S Broad, G Swann, S Finn, J Anderson
Bowling: Pattinson 9-3-27-0 (1nb); Starc 13-4-15-2; Agar 9-3-29-0 (1nb); Siddle 9-4-8-0; Watson 3-3-0-0
Match position: England lead Australia by 15 runs with eight second innings wickets standing