---
Breakthrough for England lifts spirits heading into lunch.
Australia lost the wicket of Shane Watson in the over before lunch to be go into the break at 42-1 on day two of the second Ashes test at Lords.
Tim Bresnan trapped Watson (30) in front playing around his front pad, with the Australian opener opting to review the on-field decision of out, which was upheld after the ball struck in line with off-stump.
The change of bringing Bresnan on worked a treat for Alastair Cook as the home side earned a vital wicket before the break with the touring side still trailing by by 319.
With an hour to play before lunch and chasing 361 for a first innings lead, Australia looked to get through the nervous period before the break.
Watson began to get used to the pace of the pitch and he made the England bowlers pay for several full deliveries, with several classic cover drives.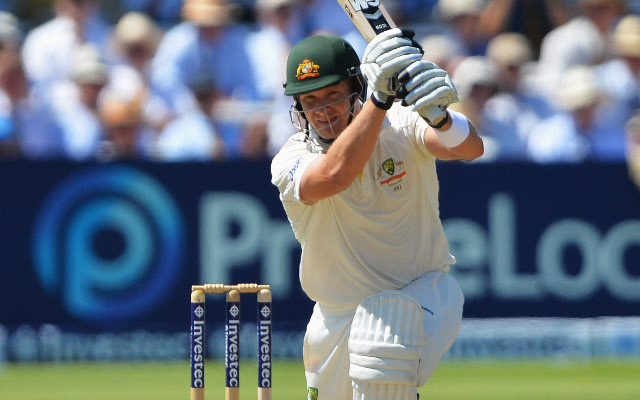 Earlier in the day, Australian fast-bowler Ryan Harris has etched his name onto the records wall at Lords, after taking 5-72 as England finish its first innings on 361.
Harris was the pick of the Australian attack on both days, as he celebrated his return to the national side with a timely haul.
However, valuable late runs from Stuart Broad (33 off 29 balls) and Graeme Swann 28no off 26) helped push the Three Lions' total higher than it might have been.
Harris stuck with the first ball of the day when Tim Bresnan edged through to Brad Haddin for just seven to make the score 289-8.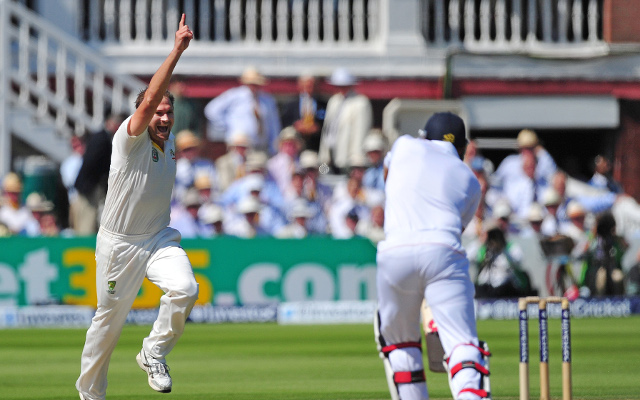 Harris then took his fifth wicket when Haddin pouched a catch off Jimmy Anderson as the tourists continued to make giant strides towards batting before lunch.
In a bid to make Graeme Swann uncomfortable at the crease, Harris went around the wicket with the only offering up mixed results.
In a sign of how good the pitch will be to bat on on days two and three, Broad and Swann showed no signs of their stroke play being rushed, as they continued the trend of last-wicket partnerships this series.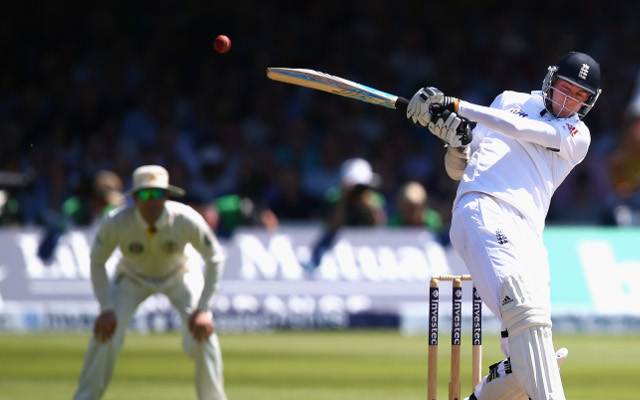 The pair continued to play through the line as they found the boundary often, as they added valuable runs for the home side with the partnership reaching 48.
James Pattinson was brought back into the attack and struck with the first ball of his spell, with an edge to Haddin with a review not saving Broad, as England were bowled out for 361 with Australia having close to an hour at the crease before lunch.
Scorecard
England v Australia
Played at Lords
Toss won by England
England 1st Innings (overnight: 289-7)
A. Cook lbw b Watson 12
J. Root lbw b Harris 6
J. Trott c Khawaja b Harris 58
K. Pietersen c Haddin b Harris 2
I. Bell c Clarke b Smith 109
J. Bairstow c and b Smith 67
M. Prior c Haddin b Smith 6
T. Bresnan c Haddin b Harris 7
J. Anderson c Haddin b Harris 12
S. Broad c Haddin b Pattinson 33
G. Swann not out 28
Extras (lb11, w4, nb6) 21
Total (all out, 100.1 overs, 452 mins) 361
Fall of wickets: 1-18 (Cook), 2-26 (Root), 3-28 (Pietersen), 4-127 (Trott), 5-271 (Bell), 6-274 (Bairstow), 7-283 (Prior), 8-289 (Bresnan), 9-313 (Anderson), 10-361 (Broad)
Bowling: Pattinson 20.1-3-95-1 (3nb, 4w); Harris 26-6-72-5; Watson 13-4-45-1; Siddle 22-6-76-0 (1nb); Agar 13-2-44-0 (2nb); Smith 6-1-18-3;
Australia 1st Innings
S. Watson lbw b Bresnan 30
C. Rogers not out 12
Extras 0
Total (1 wkt, 12.4 overs, 58 mins) 42
Fall of wickets: 1-42 (Watson)
To bat: U Khawaja, P Hughes, M Clarke, S Smith, B Haddin, A Agar, P Siddle, J Pattinson, R Harris
Bowling: Anderson 6-2-20-0; Broad 3-1-5-0; Bresnan 2.4-0-12-1; Swann 1-0-5-0