---
Touring side fights back late in the session as the pitch begins to play its part.
A crumbling pitch and reverse swing began to play tricks on the batsmen just before lunch on day three of the First Test match between England and Australia at Trent Bridge.
At the break the home side is 157-4 with Ian Bell and Jonny Bairstow unbeaten on 12 and 20 respectively with a lead of 92.
However, variable pitch conditions and the state of the ball came into play as Australia got rid of two important wickets of Alastair Cook and Kevin Pietersen.
Pietersen put the foot down on his run-rate early during the session with a sparkling cover drive to bring up his half-century.
Testament to the nature of the innings played by Pietersen it was his fourth slowest in Tests, after playing a watchful knock to finish day two.
Australia continued to work hard in promoting reverse swing for their fast men, who were able to eek out some movement through the air.
Cook struggled for timing at the other end in the first session but it was his partner that was the first to go.
James Pattinson (1-48) earned the vital wicket of Pietersen after the Englishmen dragged a shot back onto middle stump to see him out for 64 and on the cusp of producing a vital innings for his side.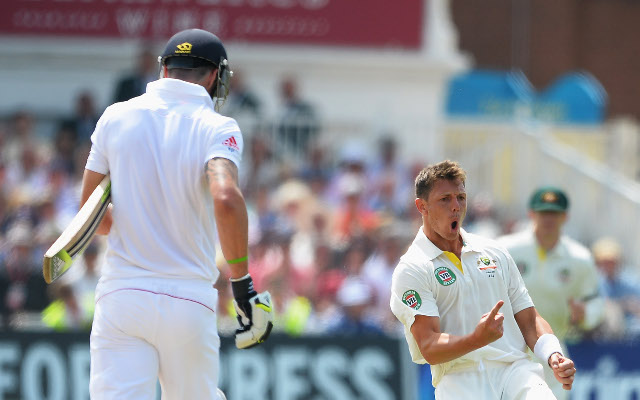 There was just enough movement through the air for the Australian bowlers to cause a new batsman problems as England looked to build another partnership with the score at 121-3
Cook brought up his half-century off 164 balls, as he was setting himself up to once again be the spine around which the rest of the English innings was built.
However, he was gone soon after when Agar got his first Test match wicket after a leaning edge flew high and to the left of Michael Clarke at first slip who took a sharp chance to make the score 131-4.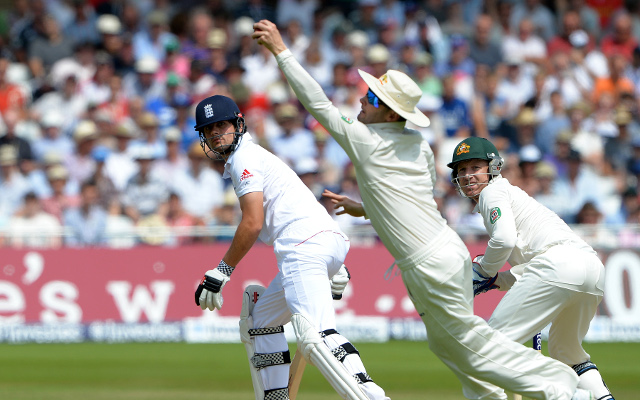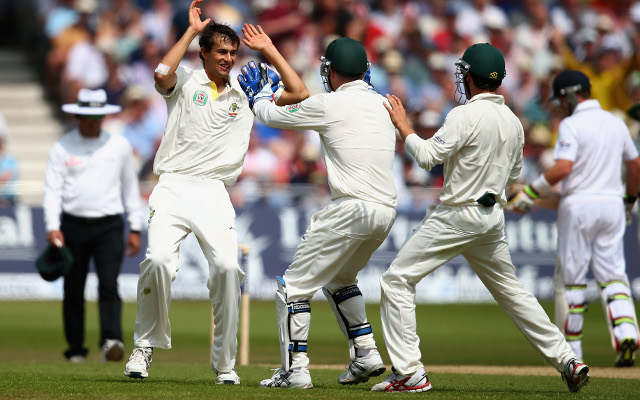 With Bell and Bairstow new to the crease the run-rate again slowed for the home side as reverse swing and uneven bounce began to play its part in the game.
Just before the break a Pattinson in-swinger hit Bell on the bad before it was given as runs, however, the Australian skipper elected to have it reviewed,
While it was clear the ball hit nothing but pad, the late swing saw the ball missing leg-stump easily in what was a wasted review by the Australians.
Scoreboard
England v Australia
Played at Trent Bridge
Toss won by England
England 1st Innings 215 (P Siddle 5-50; J Pattinson 3-69)
Australia 1st Innings 280 (A Agar 98, P Hughes 81 no, S Smith 53; J Anderson 5-85)
England 2nd Innings (overnight: 80-2)
A. Cook c Clarke b Agar 50
J. Root c Haddin b Starc 5
J. Trott lbw b Starc 0
K. Pietersen b Pattinson 64
I. Bell not out 20
J. Bairstow not out 13
Extras (b1, lb1, w1, nb2) 5
Total (4 wkts, 72 overs, 315 mins) 157
Fall of wickets: 1-11 (Root), 2-11 (Trott), 3-121 (Pietersen), 4-131 (Cook)
To bat: M Prior, S Broad, G Swann, S Finn, J Anderson
Bowling: Pattinson 17-5-48-1 (1nb); Starc 21-6-44-2 (1w); Agar 15-3-43-1 (1nb); Siddle 13-6-18-0; Watson 6-5-2-0
Australia: Shane Watson, Chris Rogers, Ed Cowan, Michael Clarke (capt), Steven Smith, Phil Hughes, Brad Haddin (wkt), Peter Siddle, Mitchell Starc, James Pattinson, Ashton Agar
Match position: England lead Australia by 92 runs with six second innings wickets standing