---
Can Melo deny Durant four titles in a row?
After holding on to the NBA scoring title for three consecutive years, Oklahoma City Thunder's Kevin Durant is at risk of missing out on a fourth.
Following the New York Knicks' 125-120 win at the Chesapeake Energy Arena on Sunday, Carmelo Anthony took the lead in the race with his 36 points, which followed back-to-back games with 40-plus points.
Anthony's scoring average now stands at 28.44 points per game, while Durant sits agonizingly behind him with 28.35. With just a handful of games to go in the regular season, can Durant swing it around in his favour?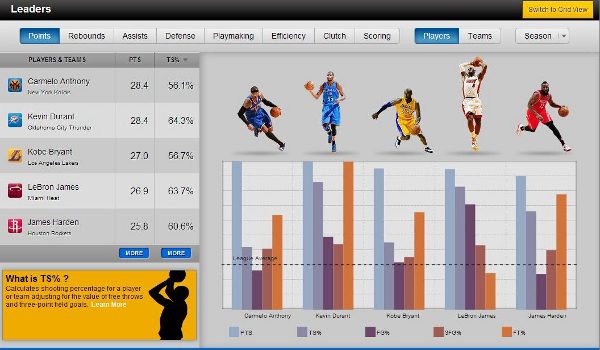 The Knicks have six remaining games before play-off basketball sweeps the NBA, and while the Thunder have five, both teams face some difficult tests ahead against some useful defensive outfits.
Mike Woodson's men host the Washington Wizards on Tuesday night, with Melo undoubtedly looking to score heavily at the Garden.
However, it becomes a little trickier thereafter, with a trip to Chicago to face the Bulls, as well as the visit of the Indiana Pacers. Knicks fans will unquestionably be hoping that the focus is on finishing second in the Eastern Conference as opposed to Anthony securing personal glory.
Meanwhile, OKC face two teams looking to seal their place in the Western Conference play-offs this week, as they begin a three-game road trip. The Utah Jazz are first up before the Thunder head to the Golden State Warriors, ahead of wrapping up the road trip against the Portland Trail Blazers.
Scott Brooks' regular season comes to a conclusion with two home games, as the Sacramento Kings and Milwaukee Bucks visit Oklahoma and Durant will be eyeing a strong finish which may well see him over the line in first place.
Regardless of who wins, the race for the 2013 NBA scoring title promises to be an enthralling one. Both Anthony and Durant are playing some fantastic basketball, but it is now up to the former to try and maintain his current incredible scoring streak.
The primary focus for both individuals will be finishing as high as possible in their respective conferences, and don't rule out a potential meeting down the line in the NBA Finals.