---
The only certainties in life are death, taxes and Robert Lewandowski scoring.
After scoring 7 goals in his previous two games, Bayern Munich's prolific striker added a hat-trick that devastated their Champions League visitors Dinamo Zagreb in a 5-0 mauling.
After Douglas Costa scored on the 13-minute mark, Lewandowski began the opening of the floodgates with goals on 21′ and 28′, before sealing the win his third 10 minutes after the break.
Watch more brilliant snippets like this with fanatix's FREE sports video news app
With the win, Bayern Munich take a commanding lead of the Group F table and next have back-to-back fixtures against Arsenal, who are pointless and should be fearing the worst.
Lewandowski's exploits were enough to get him a rare 10/10 in our player ratings. Read below to see how fanatix felt the rest of Pep Guardiola's side fared against the Croatians.
GK: Manuel Neuer – 7/10
With all the time that Bayern were spending in Zagreb's box, Neuer had time to read a novel, take his dog for a walk, drink his beer and still not worry about needing to make a save. Zagreb did not have a single shot on goal until the last few minutes of the match.
DF: Juan Bernat – 5/10
Bernat doesn't lose points for doing anything bad in particular, he just didn't do much at all. He was a complete non-factor in the match – in large part because Zagreb could hardly get the ball to Bayern's side of the field – and by half time he was replaced.
DF: Jerome Boateng – 7/10
An early shot by Boateng in the first 10 minutes could've opened the floodgates a few minutes earlier. Have to take some points off for his yellow card, though.
DF: Philipp Lahm – 7/10
Decent day for Lahm, but Bayern didn't exactly need his best performance to keep Zagreb at bay.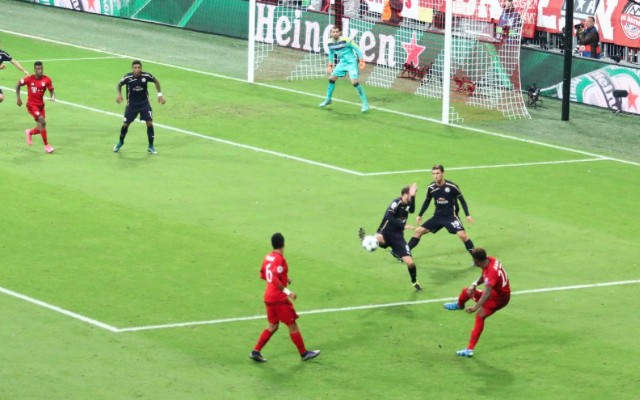 DF: David Alaba – 7/10
Much like his fellow defenders, Alaba seldom spent any significant time in his own half, but he is always an attacking threat and had two shots that kept Zagreb on the back foot.
SEE MORE:
Arsenal player ratings: Gunners sink to Olympiakos after Ospina blunder
(Video) Robert Lewandowski scores twice as Bayern Munich go up 4-0 vs Dinamo Zagreb at half time
(Video) Andre goal puts Porto ahead against Chelsea