---
Super Bowl champs down Cleveland as Ray Rice fails to finish the game.
The Baltimore Ravens ground out a tough 14-6 win against the Cleveland Browns but it was the hip injury to running back Ray Rice that dominated discussion post game.
The three-time Pro Bowl back is not scheduled to have surgery or have an MRI scan on the injury with the team taking a wait-and-see approach.
If Rice is ruled out for a number of weeks they have a ready-made back-up in the form of Bernard Pierce who earned 57 yards on 19 carries and a touchdown in the Ravens week two win.
But the Superbowl champions continue to have problems with their passing game as Joe Flacco continues to get used to the all new receivers in front of him after the team's off-season roster shake-up.
Flacco threw for 22-33 and earned 211 yards and a single touchdown and was cool under pressure when the side needed him to be.
But it is the dropped passes, inconsistency of receivers getting open and poor run blocking are bigger worries for the Ravens just a fortnight into the season.
After trailing 6-0 at halftime, Flacco completed 10 of 12 passes for 102 yards and a touchdown in the second half.
More importantly, his passes converted six third downs after halftime.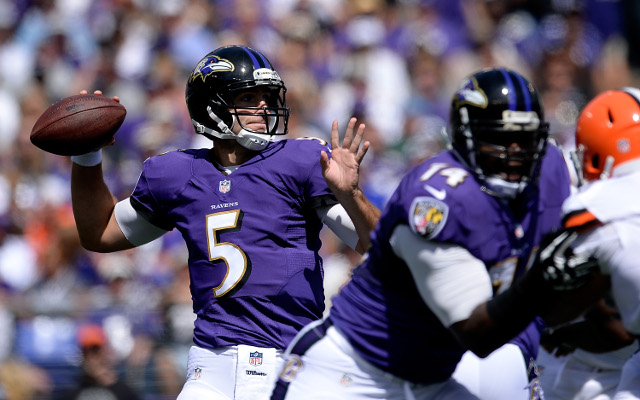 In what was an emotional day for the Ravens signal-caller his wife gave birth to their second child, with the tough win over the Browns giving them what Flacco called an "ugly" win.
"Anytime you have a child, it's one of your best days," Flacco said after the game before driving to New Jersey to be with his wife and newborn child.
"The game didn't go exactly how we wanted it to, but that's how we've won football games around here. We're able to win like this, and some things you have to do it in an ugly way."
Cleveland's offensive line were roughed up the Ravens and gave up nearly as many sacks (five) as points they scored.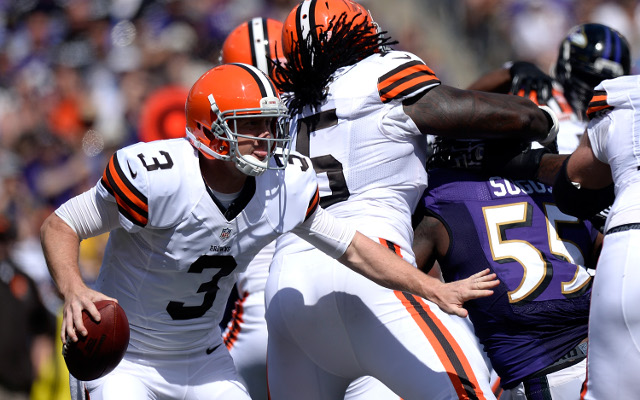 Browns quarterback Brandon Weeden left the locker-room wearing a brace on his right hand, testament to the tough day at the office he had just gone through.
"We have to score when the opportunities are there," said Weeden, who injured his right thumb in the fourth quarter and didn't return.
"We weren't able to sustain our drives. We need to capitalize on any opportunities we get."
The Ravens will have to iron out some of their kinks in their offence this week as they look to tackle the undefeated Houston Texans in week two.
Cleveland will clash with another winless team in week three, as they look to take down the Minnesota Vikings, who lost to Chicago by one-point on Sunday.