---
Offender says sorry for racial slur aimed at AFL champion.
The 13-year-old girl at the centre of a racial row in the AFL has apologised for her actions after she called Sydney Swans star Adam Goodes an "ape".
Despite spearheading his side to a rare win against Collingwood at the MCG, Goodes became the focal point in the aftermath of the game for a very different reason.
With time running out, Goodes went towards the boundary-line before pointing to a person in the front row of the crowd, reacting to something said in his direction.
The offender, a 13-year-old girl, was ejected from the MCG and placed into police custody, but Goodes has declined pressing charges.
Goodes, a well-respected indigenous figure in the game, was visibly shaken at the end of the match and went into the change-rooms to console himself after being verbally attacked.
Speaking to a press conference, Goodes said he had spoken to the girl who apologised for her racism.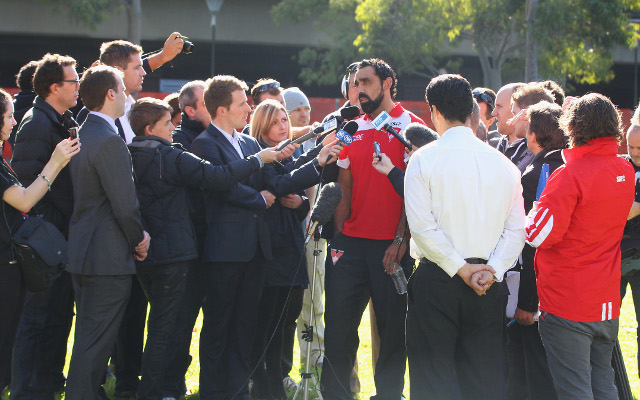 "To win by 47 points against Collingwood, to play such a pivotal role just sort of means nothing, you know, to come to the boundary line and hear a 13-year-old girl call me an ape," an emotional Goodes said.
"And it's not the first time on the footy field I've been referred to as a monkey or an ape. It was shattering.
"I turned around and when I saw it was a young girl and I thought she was 14, that was my initial thought, I was just like 'really?'. I just thought how could that happen?"
The two-time Brownlow medalist said he did not blame the girl and hoped others would not judge her too harshly.
But quickly added he hoped the AFL, and society at large, can use the incident as a stepping stone to greater understanding of the weight certain words carry against individuals.
"She's 13, she's still so innocent, I don't put any blame on her. Unfortunately it's what she hears, the environment she's grown up in that has made her think it's ok to call people names," he said.
"I can guarantee you right now she would have no idea, you know, how it makes anyone feel by calling them an ape.
"I think the person that needs the most support is the little girl, you know. People need to get around her, she's 13, she's uneducated.
"You know if she wants to pick up the phone and call me and apologise, I'll take that phone call and I'll have a conversation with that girl about 'You know what, you called me a name, this is how it made me feel', and it's school stuff, it is school stuff."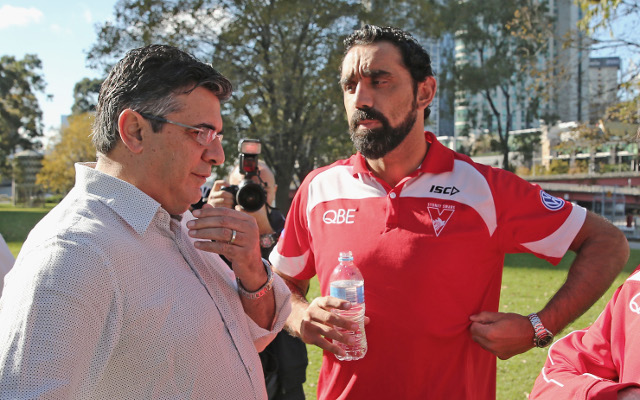 Goodes said the incident reminded him of times when he was bullied at school growing up and how, now, he is very proud of his heritage.
The timing of the incident could not have been worse for the image of the game as the AFL celebrates the contribute indigenous players have made to the game.
Goodes hoped that he can be the human face for anti-racism in Australia, not just in AFL, as the incident continues to be a major talking point.
"I don't know if it's the lowest in my career, but personally I don't think I've ever been more hurt by someone calling me a name than I was last night," he said,
"Not because of what was said, but from where it came from.  It just hit me that it wasn't a Collingwood issue or an AFL issue, but a society issue and it's an issue of what our parents are teaching our kids.
"And hopefully today people hearing this message, they can understand that it's unacceptable and it hurts. It doesn't just hurt me, it hurts my brother, my mother, it hurts my family."