---
Though the two Elimination Chamber matches and a WWE title bout will get the most attention, Kevin Owens will really make his mark.
SEE MORE:
Ethan Carter III talks TNA moving forward – new UK Tour, staying unbeaten & Slammiversary
TNA UK Tour 2016: tour dates and initial roster announced
Drew Galloway interview: 'Standing up' with The Rising, battling the BDC and TNA ambitions
WWE needs some fresh blood as audiences tire of the company's inability to figure out what to do with some of its B-list talent like Ryback, Dolph Ziggler, Bray Wyatt and Rusev. Thankfully, WWE's development program NXT has been producing wrestlers who look poised to make a big impact on the main roster sooner rather than later, and none are more ready than Kevin Owens. The reigning NXT Champion has the size and athleticism to beat any WWE superstar and his mic skills just keep getting better. Owens could very well be the next Seth Rollins as a cunning villain who can hold his own in the ring.
Though WWE greatly rushed this latest Elimination Chamber pay-per-view, they did an excellent job filling it with matches that should be ton of fun to watch and although the two matches with the event's title as a stipulation should be entertaining, they may pale in comparison to the performance Owens and John Cena will put on when they face each other in the ring.
Here is a look at the upcoming event card for WWE Elimination Chamber 2015: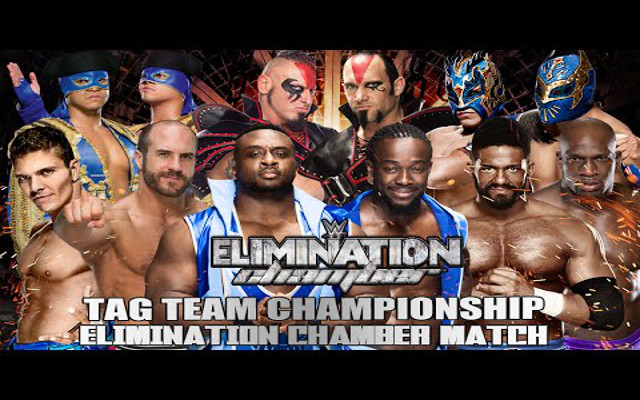 1. The New Day (c) vs. The Lucha Dragons vs. Tyson Kidd and Cesaro vs. The Prime Time Players vs. The Ascension vs. Los Matadores in Elimination Chamber Match for WWE Tag Team Championship
For the first time ever the Elimination Chamber will feature tag teams locked in the pods for what could be one of the most chaotic and just plain fun matches of the year. The New Day have thrived as a heel tag team and now that WWE is overloaded with talent in the tag team division, the WWE Universe will get a chance to see some of the more exciting tag teams like The Lucha Dragons and Los Matadores in an environment where they can be more creative with their high-flying abilities. It could also prove to be a chance for floundering tag teams like The Ascension and The Prime Time Players to regain some of their lost credibility.
But ultimately, you just know The New Day is going to do something underhanded to come away with the match.
Prediction: The New Day retain WWE Tag Team Championship