---
Injuries start to bite British and Irish side hard during Australian tour.
Shane Williams said he was very proud to help out the British and Irish Lions in his cameo tour appearance in the countdown to this weekend's opening Test against the Wallabies.
The Welsh wing great has made a dash from Japan where he was playing club rugby to break his two-year international retirement and help the overstretched Lions ease their workload and play in a one-off against Australian Super 15 conference leaders ACT Brumbies in Canberra on Tuesday.
Williams, 36, said he was in bed on Saturday night having played against the top team in Japan when the phone rang.
"(Lions coach) Rob Howley phoned me in my hotel room at about 11pm on Saturday night asking if I would help out the Lions by playing on Tuesday," Williams said.
"There was no way I was going to say no," said Williams, who irrespectively was due to travel to Brisbane this week to work at the Test match as a British radio summariser.
"I'm happy to be here and I'm enjoying myself.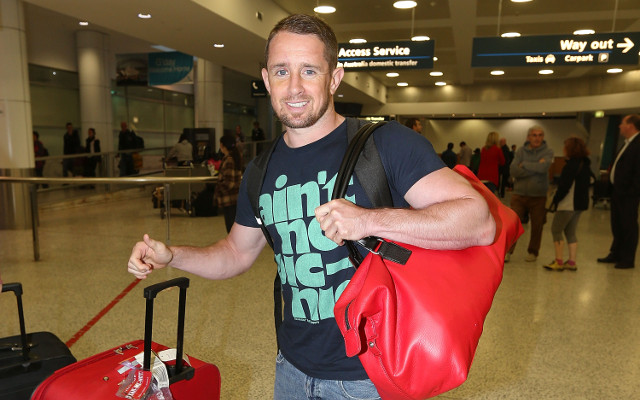 "Four years ago in Johannesburg was a great day for me and the Lions. It was unfortunate we lost the series, but I came off that field immensely proud thinking that was the last time I'd wear the Lions jersey and I've thought that for the last four years.
"To be given this opportunity again is really a dream come true – and completely out of the blue. I knew nothing about it.
"I appreciate the Lions have had a lot of injuries during this tough tour so far and if me playing tomorrow helps the Lions to recover, and do whatever it is best to prepare for Saturday and win that game, then I am very proud to be a part of it."
Williams has toured twice with the Lions and scored two tries on his last appearance in the third Test triumph in South Africa four years ago.
The man with the twinkling feet has scored 60 tries in 91 Tests for Wales and the Lions.
Williams is the seventh player summoned to Australia so far to help out the injury-hit Lions and he will be among six reinforcements in the tourists' matchday 23-man squad playing against Jake White's Brumbies.