---
Striker changes twitter description, after reports suggest he wants Old Trafford exit.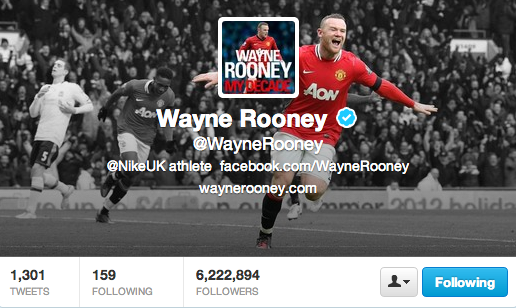 Wayne Rooney has removed the description 'Manchester United player' from his twitter page and replaced it with 'NikeUK athlete', amid reports he wants to leave Old Trafford this summer.
The Guardian reported Thursday that the England striker had asked to be allowed to leave a fortnight ago but was not he was not for sale by boss Sir Alex Ferguson.
Ferguson has since announced his retirement at the end of this season and the 71-year-old will be replaced by Everton's David Moyes, with whom Rooney has a fractious relationship.
Despite being told he cannot leave Manchester, it is understood that United value the 27-year-old England international at around £40m and will listen to any serious offers for the former Toffees star.
The club are interested in financing a deal to bring Cristiano Ronaldo back to Old Trafford this summer, and would allow Rooney depart if PSG, Bayern Munich or Chelsea came calling.
While it is not known why Rooney changed his twitter description, the decision suggests he is disgruntled at life at United and would jump at the chance to move this summer, rather than stay at the club under Moyes.