---
Anticipation builds ahead of British and Irish tour of Australia.
Rival Kiwi coaches Robbie Deans and Warren Gatland are facing contrasting pressures ahead of the British and Irish Lions' visit to Australia in what could be a career-defining tour for both men.
While Lions coach Warren Gatland is carrying the weight of expectation, Deans is trying to convince a sceptical Australian public after an uneasy tenure which could end this year.
Deans, 53, the first foreigner to coach the Wallabies, is no stranger to criticism after coming under frequent attack over his mixed results since taking on the job in 2008.
The heat is also on Gatland, 49, who was named the Lions' second overseas coach after steering Wales to two Grand Slams and a semi-final at the 2011 Rugby World Cup.
He follows fellow Kiwi Graham Henry, who became a World Cup-winner with New Zealand in 2011 but was unable to pilot the Lions to victory on their last trip to Australia in 2001, a series which ended in a 2-1 defeat.
Henry has called the Lions the "most demanding job in Test rugby", with the coach juggling a delicate balance of national sensibilities by picking the best players and combinations from England, Wales, Scotland and Ireland.
The Lions, who traditionally tour one out of South Africa, New Zealand and Australia every four years, have not won a Test series since overcoming the Springboks in 1997.
"You look at potential partnerships and what you think will work," Henry said, in identifying Gatland's dilemma. "It is not an easy task, even though you are picking from four of the leading countries in the world.
"The players you choose are, virtually exclusively, the number ones in their positions in their countries, class acts, but the Lions is another team."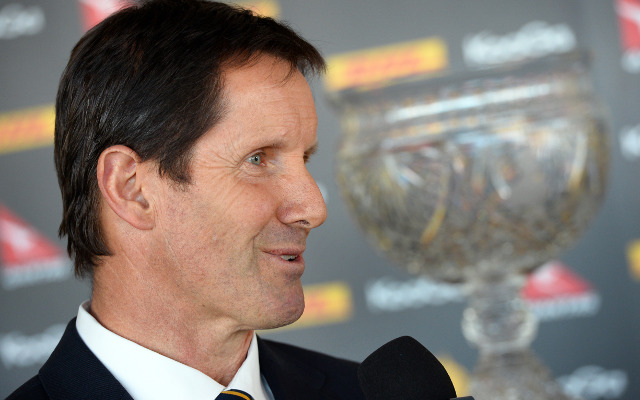 The Wallabies are considered the weakest of the SANZAR nations, even though they are ranked second behind World Cup champions New Zealand and above third-rated South Africa.
Deans, who was headhunted for the Australia job on the back of coaching four Super rugby titles from six finals appearances with the Canterbury Crusaders, has not realised the flowering of the Wallabies as had been anticipated.
He has won just 42 of his 71 Tests (59.2 percent) and has overseen home defeats to Samoa and Scotland, a 33-6 drubbing by France last year, a 15-6 loss to Ireland at the last World Cup and a run of 10 straight defeats to New Zealand.
Such is Australia's ambivalence towards Deans that he will have to reapply for his job when his contract runs out at the end of this year, the country's rugby union chief Bill Pulver has said.
However, beating the Lions would constitute a huge triumph for the Christchurch native, emulating the achievement of 1999 World Cup-winning coach Rod Macqueen the last time the British and Irish team came to Australia.
"This is the ultimate rugby experience," said Deans.
Bookmakers rate captain Sam Warburton's Lions as favourites to beat the Wallabies with a squad brimming with big forwards and big backs.
This favouritism weighs heavily on Gatland, who has selected 15 Welshmen in his squad — Wales's largest Lions representation in 36 years — while England will provide 10 players.
"It's a responsibility to the players and coaches that have gone before me and to 125 years of Lions history," he said.
"For a player it is the pinnacle of their career. This is the highest honour, to be selected as the Lions coach. It is the pinnacle of anyone's coaching career."