---
Chilean striker all set for Arsenal switch.
The front page of Spanish newspaper SPORT is claiming that Barcelona forward Alexis Sanchez has decided on a move to Arsenal this summer.
"Alexis elige al Arsenal" – effectively "Alexis chooses Arsenal."
Most of the details in the paper regard the Chilean international's move to the north London outfit as well as the impending arrival of striker Luis Suarez from Liverpool.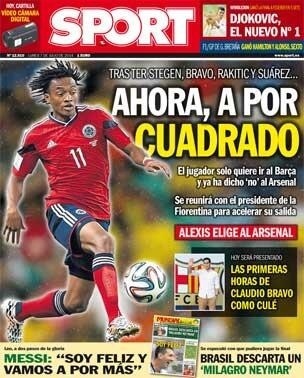 SPORT journalist Joan Batille confirms that the 25-year-old has decided on a move to Arsenal and will make his way to the Premier League shortly in order to allow the Catalan giants to wrap up the signing of Suarez.
It is believed that Barca's move for the controversial Uruguayan was put on hold until they found a buyer for Sanchez as they needed to first raise the funds to be able to fend of arch-rivals Real Madrid.
It looks like only if Manchester City make a serious move or Juventus up their offer, will the sought after playmaker go anywhere else bar Arsenal.
The report apparently says that Sanchez has been sold on joining the Gunners by Arsene Wenger's willingness to welcome him with open arms.
Sanchez had also previously expressed his admiration for Premier League football too.