---
The Red Devils are receiving criticism from all angles in Spain.
After trying and failing to sign Ander Herrera from Athletic Bilbao, Manchester United are now facing the wrath of the Spanish media over their transfer dealings.
The club approached the Spaniard back in August, but Athletic were unwilling to let the midfielder leave unless the €36m release clause was met – and even then the club weren't keen.
On deadline day on Monday United tried in vain to finalise the deal, but eventually to no avail and the media in Bilbao have compared the Premier League champions to the calamitous sketches of British comedian Benny Hill.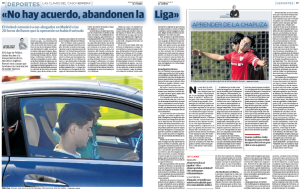 Whether the Red Devils were completely to blame for this affair is unclear currently, with transfer negotiations in Spain having proved particularly tricky in the past, especially with Athletic; as Bayern Munich and Juventus have found out in the past two years.
Bilbao-based newspaper El Correo claimed that United had sent three representatives to the city to place the cheque for Herrera, but then decided against the move.
The identity of these men was thrown into even more controversy when Sky Sports journalist Guillem Balague suggested the members could be imposters.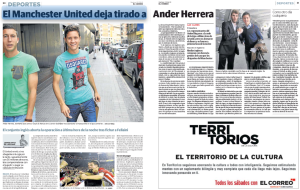 Pictures courtesy of Sport Witness.
In fact on closer inspection this of course turned out to be false and the men were identified as lawyers who represent Athletic – who had also been involved with Javi Martinez's move to Bayern.
The whole saga certainly doesn't shine a good light on United and their new CEO Ed Woodward, but the club are perhaps not as much to blame for the affair as some are trying to suggest.
Melanggar Manchester United rumor transfer dan berita dalam Bahasa Indonesia dengan fanatix ID!