---
The Lakers have been given added motivation to reach 47 wins this season…
SEE ALSO:
Thomas Collingwood: Josh Thomas suffers bizarre off-season injury
Aaron Finch: Watch as the Australia T20 captain is almost burned by a flamethrower at the Adelaide Oval
2015 AFL Fixture: See your club's matches here!
If the Los Angeles Lakers needed any more motivation to turn its poor start to the season around, then this could be it.
The Lakers have begun the 2014-12 campaign with five straight losses, their worst start to a season since 1957.
But porn star Sadie Santana has offered her, err, services in order for the Lakers to turn their season around.
Santana says she'll perform oral sex on every member of the Lakers roster if they can reach 47 wins this season.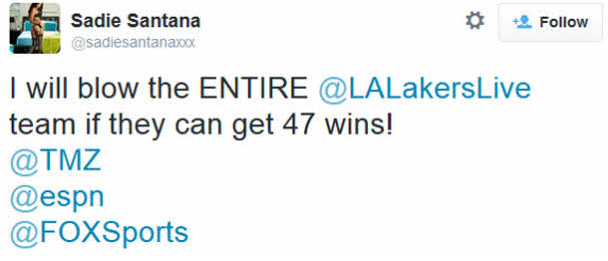 Given how bad the Lakers are, it screams of publicity stunt.