---
Code cracks down on violence after stakeholders and fans divided on fighting in the game.
The NRL has puts its foot down regarding any players fighting on the field with the code announcing a new zero tolerance policy.
Coming in the wake of the Paul Gallen fight with Nate Myles in State of Origin One, the game is concerned with its image and what message is being sent to younger supporters.
Gallen was suspended for one club game when he hit Myles on the jaw twice before the Queensland player retaliated, but the NRL and its referees were criticised by some for the Blues skipper not being sin-binned or sent off.
The incident has been given plenty of airtime in the media since it occurred and split fans of the game as to whether it has a place in the NRL, given some believe State of Origin games should have some leniency for what is normally considered against the rules or ethics of the game.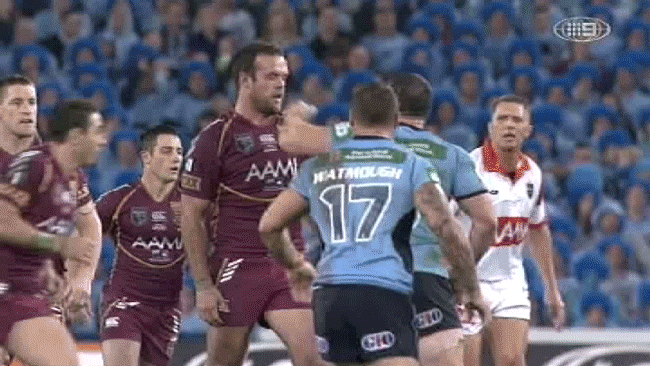 NRL referees boss Daniel Anderson said any player seen throwing a punch in the NRL or the remaining two State of Origin games will be sin-binned, no matter what the precluding circumstances are.
Players could also face bans from club or representative games and referees who do not enforce the new tougher rules will be sacked.
Anderson said the tough action had to be taken now before the game copped another public relations black eye.
"We need to make sure our game can recruit young kids," Anderson said.
"We've got a duty to the community and to people involved in our sport.
"There are a lot of swinging voters on our game who could be turned away by certain incidents.
"The product has to be palatable and accommodate all people who want to be involved in the game. It's the mums and dads who decide if their kids get to play rugby league."
Anderson also hinted that multiple players could be sent to the sin-bin, with any such incidents potentially shifting the course of a match.
The refs boss said he would also like to do away with the stigma that offcials view incidents in State of Origin games with less of a critical eye.
"I don't like the perception there are different rules in NRL and Origin games. This has to be consistent. I'd rather we're all on the same page," he said.
"I'll ensure I have a chat to (NSW coach) Laurie (Daley) and (Queensland coach) Mal (Meninga) personally. They'll be told any player that punches or comes in third man will be identified and sent to the sin bin."