---
Newcastle Knight's forward continues recovery from spinal surgery.
The Newcastle Knights have announced that forward Alex McKinnon has made a small advancement in his recovery on Sunday. and is now had his assisted ventilation removed and can now communicate with his family.
His breathing will be monitored while undertaking intense physiotherapy before the next stage, which will hopefully involve a transfer to Sydney.
Alex's father Scott again wished to thank everyone for the continued support.
"It has been a highly emotional day for us and this is just a small stage in a long journey," Scott McKinnon said.
"Once again, we can't thank everyone enough for the prayers and well wishes we have received for Alex and our family."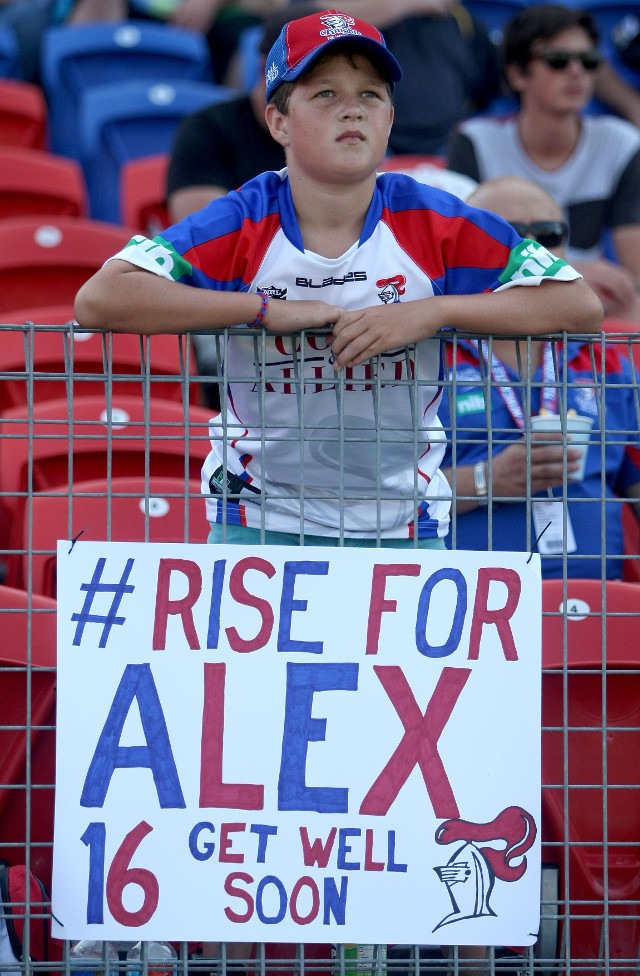 The NRL club has been inundated with well-wishers as the game with his family thanking the game and its fans for their support.
We wish to thank the public and the media for the tremendous support and words of concern we have already received for our son and partner, Alex.
"He remains in a critical but stable condition at The Alfred hospital and is receiving the very best care.
"Alex's injury is still in its early days and we are still in the process of understanding its implications and what the future may hold for him.
"This is a challenging time for everyone who loves Alex and, until such a time that we are feeling stronger, we ask that our family's privacy is respected so that we can focus solely on his recovery."
McKinnon had emergency surgery early on Tuesday morning to stabilise his neck, which consisted of a disc removal at C4 and C5 and anterior fusion after a tackle last weekend against the Melbourne Storm went wrong and resulted in him being driven into the AAMI Park stadium turf headfirst.