---
Big name move comes well after the deadline.
The Philadelphia 76ers have landed a big name after the NBA trading deadline has expired, with former All-Star small forward Danny Granger being signed for the rest of the season.
Granger will be at the 76ers and in return the Pacers will get Evan Turner, who was heavily linked with several teams this trade period and a further package, including Lavoy Allen and a second round pick for the 2015 draft.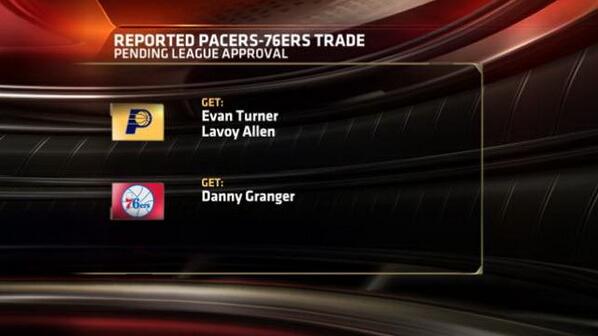 Granger has spent his entire nine-year career at the Pacers and at one stage was rated one of the best small forwards in the league, with a career high of 25.8 points a game coming in 2008-09.
However, recent injuries have been coupled with the rapid rise of Paul George as the Pacers' best play and number one choice at the 3, have seen Indiana make the move.
The trade could also be as a move to ensure the Pacers have cover for Lance Stephenson, who has risen in the eyes of the league, if he decides to leave the Fieldhouse in free-agency.