---
Knicks can offer Anthony max deal but Chicago could be perfect fit.
New York Knicks star Carmelo Anthony is one of the most high-profile free agents this summer, and he is expected to make a decision on his future next week.
Fanatix NBA experts Sumeet Paul and Scott Hazlewood discuss which team would suit Melo the most in his pursuit of an NBA championship.
Scott Hazlewood: Seemingly with every passing hour NBA fans are given a new piece of information that depending on which team you support gives you more or less hope of landing Carmelo Anthony on their team.
Finally we are starting to see some figures being rolled out for what teams are willing to pay him, with the Lakers shelling out $96 million over four years, which will be much the same as the Chicago Bulls.
While the Knicks have offered Melo $129 million over five years, which deal is likely to intrigue him more and is it all about the dollars for Anthony?
Sumeet Paul: Anthony has gone on record to say that the financial aspects of his next deal aren't his priority and he has previously even suggested he would be willing to take a pay cut with the Knicks if it helps them assemble a competitive roster.
As a result, this decision now comes down to two issues. Firstly, whether or not he is ready to leave New York given his love for playing at MSG and the way in which his family have settled in the city, and secondly, which team he believes offers the best opportunity of immediate success.
On paper, you would have to say that the Bulls are his best option. Staying in the less-competitive Eastern Conference would give him a better chance of reaching the NBA Finals as opposed to trying to do so in a stacked West. In addition, by joining forces with Derrick Rose and Joakim Noah, you could have another 'Big Three' capable of winning championships together.
SH: Seemingly though the Knicks are warming to retain Anthony if you believe any of the talk coming from their camp. The Knicks are still a good fit for the reasons you just listed, but without major cap room until 2015, where New York will also get a first round draft pick, do you think Melo can return to MSG and play what could potentially be another average season for the Knicks in 2014-15?
SP: Given that he's now 30, you would assume he isn't ready to waste another year in the peak of his career. If Melo chooses to stay in New York for the long-term plan under Phil Jackson then that is perfectly acceptable, but with questions being asked of the Miami Heat and the San Antonio Spurs' Big Three era coming to an end after next season, isn't this surely the perfect time for Anthony to move on and try to dominate the league with a solid team alongside him rather than do guess work over what the Knicks might do in a year?
Money aside, the Bulls are his best option, and if they can avoid sacrificing their depth to land him, then he should be able to recognise the potential on that team with him joining.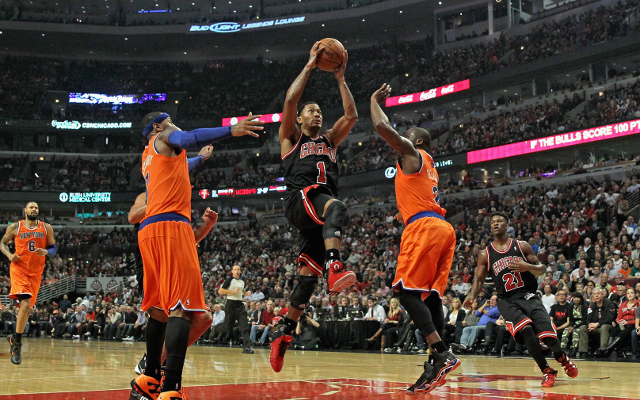 SH: The Bulls have done just about all they can, bar guaranteeing Melo a title next year to try and land him. What might they have do player and salary-wise to land him for sure? Bearing in mind top-heavy teams, like the Heat were when the Big Three landed in South Beach can sometimes be found out in a long playoff series.
SP: In an ideal world, the Knicks would be open to a sign-and-trade deal involving Carlos Boozer. However, this isn't an ideal world and even the Knicks will know that's a bad move for them and an exceptional one for Chicago who would have much more financial flexibility. As a result, the Bulls will likely use the amnesty provision on him which would create some, but not much, cap space.
Given that Taj Gibson was part of the recruitment process when Anthony visited Chicago on Tuesday, you would have to assume the Bulls have sold a vision of playing in the Windy City that involves the ever-improving forward.
In turn, that would mean potentially trading Mike Dunleavy, and depending on what Anthony is willing to accept, with reports that Chicago will offer $16m per year, more players could be sacrificed. However, the Bulls front office will know that keeping a core of Rose, Noah, Gibson and Butler will be fundamental to winning a championship if Anthony joins, with rookie Doug McDermott, Tony Snell and Kirk Hinrich amongst those on the bench.
SH: The last of the main suitors are the Lakers. To me they offer up an enticing package as well, given he could get a chance to play with Kobe Bryant for a year or two, if Kobe stays fit, and maybe make some waves out in the Western Conference, especially if Pau Gasol stays with them.
Then once Kobe seemingly retires at the end of current deal, Anthony would then be king of the Lakers and have a big say in where the team goes. It is one of the most prestigious teams in the league, there are plenty of chances for Anthony's wife to do her entrepreneur thing, so surely they must get some consideration?
SP: Absolutely, any player that has interest from the Lakers will immediately sit up and take notice and consider their offer. While Bryant and Anthony could compliment each other well along with Gasol, I still don't think that would be enough for them to rule the West.
They would be competitive without doubt, but is Anthony really prepared to go through a gruelling post-season against so many quality teams to get to the Finals? Chicago appears to be ready-made for him, playing in a settled roster under one of the best coaches in the league and he brings the one thing that they lack, scoring.
As appealing as the Lakers are, there are so many questions surrounding the franchise after last season, and while the same could apply to Rose, there is no guarantee that Bryant will be back at his best next year.