---
The Houston Rockets apologised to the Dallas Mavericks on Tuesday night for an in-game tweet posted on their official account mocking them as the game neared an end.
READ MORE:
Spurs leads as Rockets await: (Video) Another dramatic night in the NBA.
Rockets eliminate Mavs from playoffs: (Video) All over for Dallas for this year.
Mavs vs Rockets Game 5 preview: It turned out to be the end of the road for the Mavs.
The Rockets eliminated the Mavs from the playoffs on Tuesday with a 4-1 series win, but as Game 5 neared its conclusion, they posted the tweet below showing a horse with a pistol next to its head as Dallas succumbed to an inevitable end.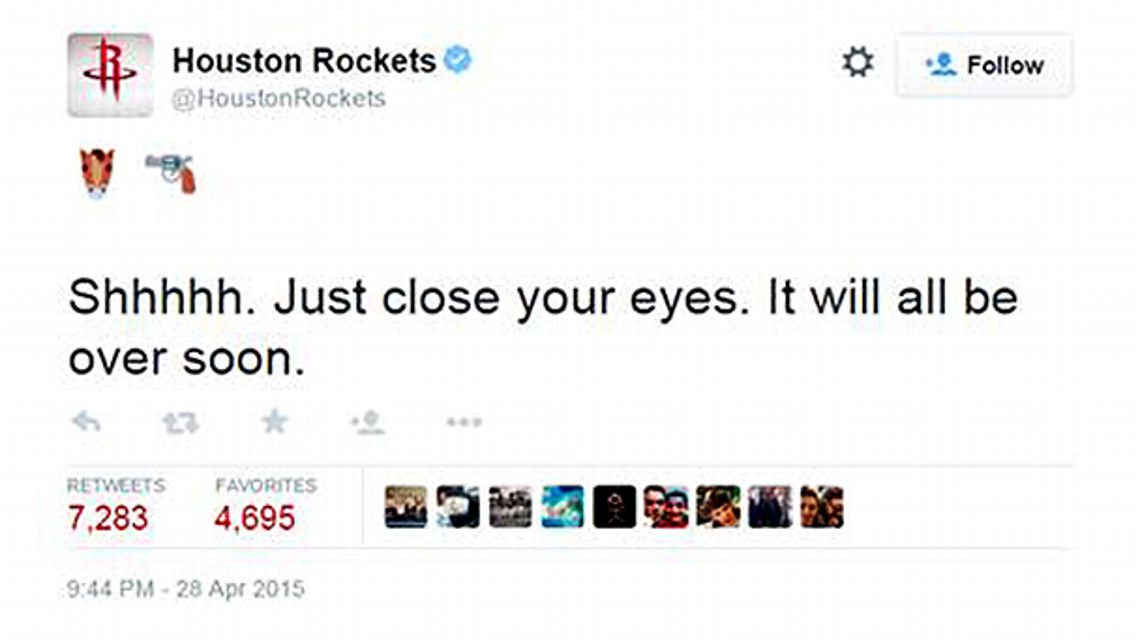 The tweet has since been deleted while the Mavs responded by insisting that although it wasn't a very classy gesture, they wished their in-state rivals the best in the next round.
In turn, the Rockets then responded on Twitter to apologise for the controversial tweet. "Our tweet earlier was in very poor taste and not indicative of the respect we have for the Dallas Mavericks and their fans. We sincerely apologise."
Despite their state rivalry, the players and coaches were friendly on the court after the game with the Mavs wishing their conquerers the best as they now await the winner of the San Antonio Spurs and Los Angeles Clippers series.
Having finally got over the hump and secured a playoff series win, Houston will now be desperate to extend their run and are seemingly in a strong position do so with both James Harden and Dwight Howard leading the way.
In contrast, there will be some difficult decisions for the Mavs this summer as after assembling a strong roster, they were unable to put all their pieces together to produce a legitimate championship contender.