---
Fans of the German hero slam the publication for misleading them.
A German-based magazine has been lashed with criticism after publishing a photo of a smiling Michael Schumacher with the headline "awake" this week.
Fans of the former world champion and other media outlets have taken Die Aktuelle to task for their decision to mislead their readers.
Inside the magazine are a number of stories of people waking up from comas, such as the one Schumacher currently finds himself in.
At no point does the magazine reference Schumacher's health in a positive way with fans taking to social media to express their disgust, with publisher Gong-Verlag not commenting on the scandal.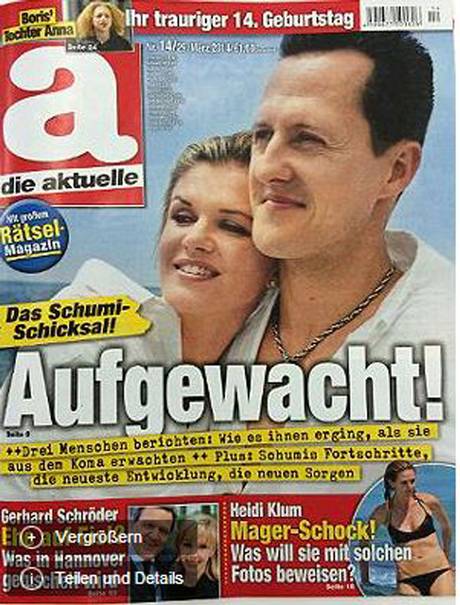 Schumacher has been in a coma at Grenoble University Hospital since December 29 last year, after he struck the right side of his head on rocks while skiing with his family at the resort of Meribel.
Reports since then have ranged from improvement to no-possible signs of recovery in the months since the accident, which has continued to shock fans of the seven-time world champion.
Former Formula One chief doctor Dr Gary Hartstein said that Schumacher was in a "persistent coma" and said his mind and body faced significant dangers the longer he stayed in his current state.
"As mentioned previously, the longer one remains in a vegetative state, the less the likelihood of emerging, and the higher the chances of severe ramifications if the patient does in fact emerge," Dr Hartstein wrote.
"Most definitions consider the vegetative state to be permanent one year after the injury.
"Patients who are in a persistent/permanent vegetative state have lifespans that are measured in months to a few years. This depends on baseline function (extraordinary in the case of Michael, of course), the quality of nursing care, and other imponderables. They usually die of respiratory or urinary infections. Longer survivals have been described, but are exceptional."