---
NBA superstars confirmed to appear in tournament in Spain.
Three-time NBA scoring champion Kevin Durant and former NBA rebounding champion Kevin Love will play for the United States in next year's Basketball World Cup, US coach Mike Krzyzewski announced.
Oklahoma City Thunder star Durant and Minnesota Timberwolves big man Love were teammates on the 2012 London Olympic gold medal team as well as the 2010 world championship squad that will defend its crown next year in Spain.
Both players have committed to the US program through 2016, when the Americans will try to defend their title at the Rio de Janeiro Olympics.
"It means a great deal to us because of how committed they are to our program and we are very appreciative," USA Basketball chairman Jerry Colangelo said.
"We think it will certainly send a message to some of our other guys, who have indicated they are interested, and so we are very excited."
Durant was named Most Valuable Player of the 2010 FIBA World Championship, now named the FIBA World Cup, and led the US squad with 19.5 points a game at the London Olympics.
"We did a lot of talking last year after the Olympics, because that group was so great together and we didn't want that to be the last time we played together," Durant said. "Hopefully everybody stays healthy and we play next summer."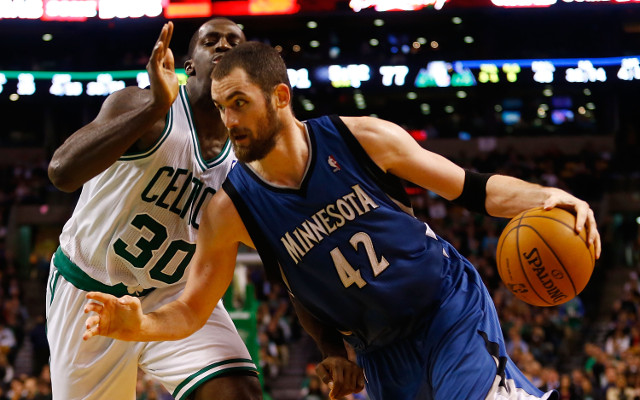 That could pit the Americans against host Spain, a team that has tested the US squad before losing in the past two Olympic finals. But, Durant noted, it would not be the first time the US NBA stars faced the hosts in the worlds.
"It's going to be really hard," Durant said of facing Spain in Spain. "We beat Turkey in Turkey in 2010, so we know what it takes, but it should be fun."
Love averaged 11.6 points and a team-best 7.6 rebounds during the 2012 Olympics.
"We are looking for bigger and brighter things," Love said. "Being committed all the way through 2016 is very big for us."
Krzyzewski, also the coach at Duke University, said Durant and Love said it will be a huge step to have Durant and Love over the next Olympic cycle.
"They now are the leadership," Krzyzewski said.