---
Newcastle star also reveals he draws strength from others in his situation.
He might be facing the rest of his life in a wheelchair, but Alex McKinnon said he is not holding grudges, saying there's not point to it.
Speaking ahead of the Rise for Alex round in the NRL, McKinnon said he has as many good days as bad days, but added he never lets his head drop.
But there's no point having the s. ts," McKinnon said.
"There's no point being angry. I could be filthy on the world, filthy on the game, but I'm not.
"At the end of the day I'm in a situation and you've got to be content with that situation and enjoy the time with your friends.
"If I'm angry I'm not going to be real fun to be around."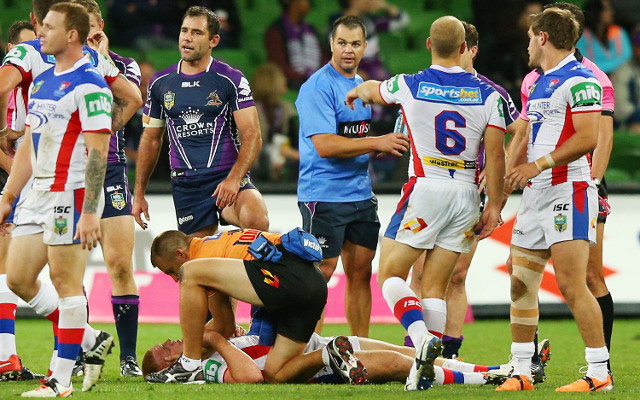 McKinnon suffered a spinal injury when he was driven head-first into the turf earlier this season when his side tackled the Melbourne Storm.
Despite early report of him being a paraplegic, McKinnon is showing slow improvement in being able to move his arms, but he may not walk freely again.
McKinnon said he has received the most inspiration from other patients at a specialty clinic where he has been since late April, saying their stories will never be told as his has been, but that does not make them any less important.
"What rugby league has done for me and my life is ridiculous. I would not be the person I am today without rugby league. I would not change it for anything," he said.
"More people get spinal injuries in car accidents than they do rugby league. Being in a spinal rehab you see how other people end up there and realise that your situation is not as bad as theirs.
"There's some people there who have injuries walking down the street or riding a pushbike.
"You can be haunted about how you live your life, but if something is going to happen, it's going to happen, I suppose."