---
Delivery service court controversy after shameless 'like' grabbing following crash.
International courier service DHL has come in for some heavy criticism after a Facebook post asking for 'likes' off the back of F1 driver Jules Bianchi crashed on Sunday.
SEE MORE:
Best teenagers in world football
Stunning Gallery! 50 Really Hot Women In Football Shirts: Sexy Babes In Liverpool, Arsenal, Chelsea & Man United Kit.
Best Premier League players 2014/15
There German company posted photos of the diver on their Facebook claiming that liking the post would equate to sending 'good wishes' to the 25-year-old as he lay in hospital.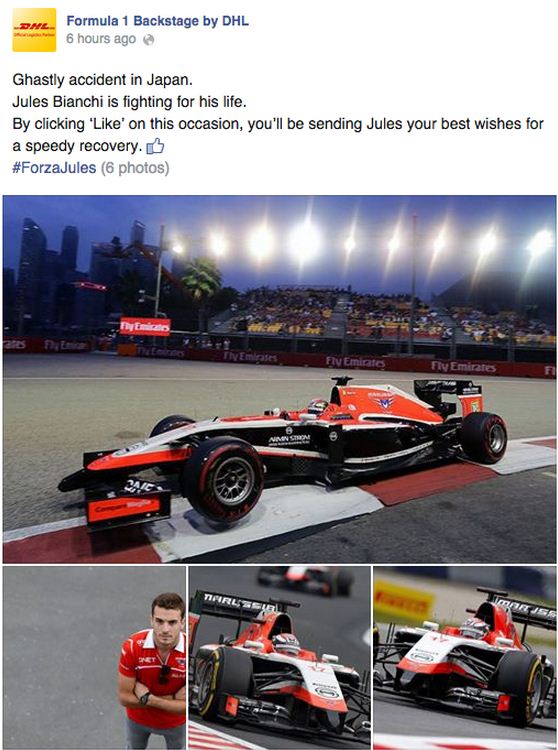 Naturally, the post was pounced upon by outraged fans, who took to their own social media platforms to register their disgust.
Shame on #DHL trying to exploit Jules Bianchi's accident for their own purposes.

— Christopher Lane (@technosworld) October 6, 2014
How many ppl will never use @dhlexpressuk now as DHL Backstage piggy-backs on Jules Bianchi crash? Truly inhumane. Who's working for you?!

— Michael Amherst (@michaelamherst) October 5, 2014
.@dhlexpressuk Don't know if you control the DHL F1 Backstage FB page, but getting likes from an F1 crash comes across as pretty poor.

— Jenny M (@jennyanne_m) October 5, 2014
Not impressed with DHL F1 Backstage asking for likes on a Facebook post to send best wishes to Jules Bianchi. Incorrect approach / tone.

— Liam Ashley (@Hooligunn) October 5, 2014
Gotta hate Formula 1 Backstage by DHL using the crash of Jules Bianchi to increase their Facebook likes. #DHL… http://t.co/RLJyQy0kqG

— freddy sherman (@LuxuryFred) October 5, 2014
Bianchi underwent surgery for 'severe head wounds' immediately after the crash on Sunday and is still thought to be in a critical condition.
Man Utd FIFA 15 best XI!