---
Borussia Dortmund supporters vandalise Gunners' ground.
Dortmund fans are commonly regarded as among the best in Europe.
The club's 'Yellow Wall' is famous across Germany and has become a feature of recent Champions League seasons.
But a picture has emerged of the away end at the Emirates Stadium following Dortmund's 2-1 win over Arsenal, which paints a rather different picture. A whole row of seats appears to have been ripped up by the Dortmund faithful – a surprising act of vandalism that somewhat taints the notion that the clubs fans are as respectful as they are passionate.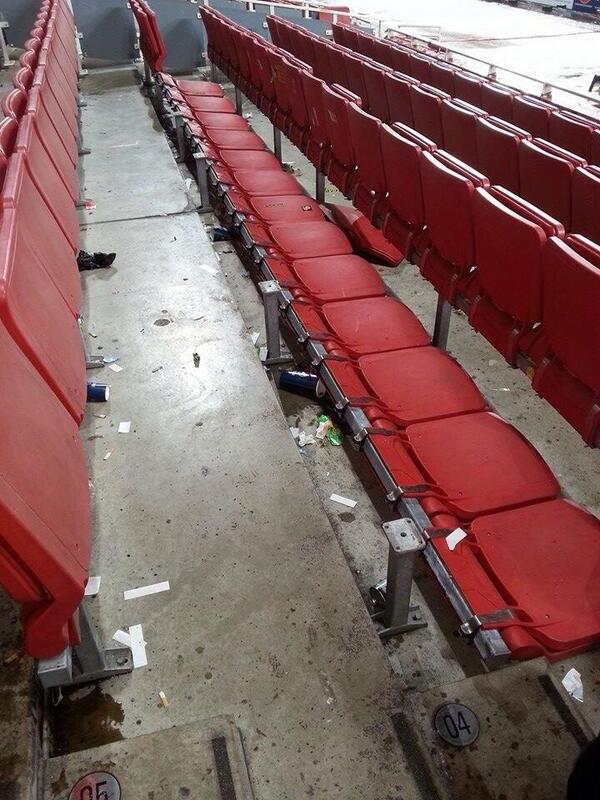 However, one Dortmund fan took to social network/news aggregator Reddit to apologise for the behaviour, writing:
"I am here as a Borussia Dortmund fan. I cannot speak for the rest every fan but I am sorry for the damages at the Emirates. It was a great match and even if Dortmund had lost or tied, there was no right for the fans to start ripping off chairs. Don't let this dirty the image of the club though. Fans will always be crazy and rowdy and sometimes they will go overboard; it is not the fault of the coach or the players or the club itself. Once again I am speaking for myself. I am sorry.
See you at the Westfalenstadion."