---
Lovely gesture from Chelsea manager.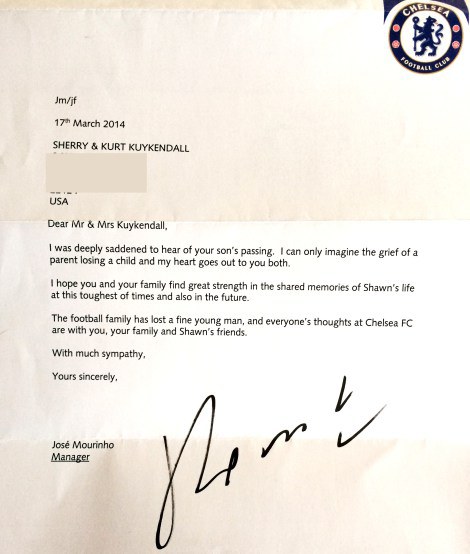 What a gent!
Read more Chelsea transfer news.

Jose Mourinho may not be everyone's cup of tea but, in a gdesture that showed his class, the Chelsea manager wrote a letter of support to the parents of Shawn Kuykendall, the former MLS player who passed away last month after a battle with cancer.
Kuykendall's was a Chelsea fan, and a big admirer of Chelsea midfielder Frank Lampard, and once traded shirts with the England star after an exhibition match.
The letter reads:
Dear Mr. and Mrs. Kuykendall,
I was deeply saddened to hear of your son's passing. I can only imagine the grief of a parent losing a child and my heart goes out to you both.
I hope you and your family find great strength in the shared memories of Shawn's life at this toughest of times and also in the future.
The football family has lost a fine young man, and everyone's thoughts at Chelsea FC are with you, your family and Shawn's friends.
With much sympathy,
Yours sincerely,
Jose Mourinho