---
300lb monster is currently impressing scouts with his quick hands and feet as draft stock rises.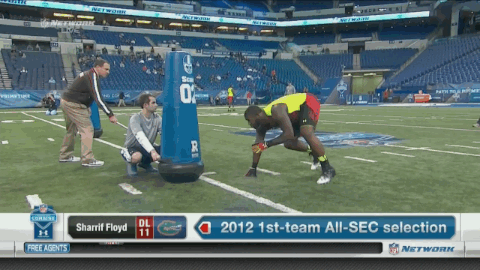 Sharrif Floyd was already a highly touted defensive tackle prospect coming into this years combine, however he is really impressing scouts with his current on field workouts.
The 20 year old is showing here his quickness and hand speed off the line in this drill, something that is rare amongst defensive tackles his size.
Regarded as a good fit to play nose tackle on a 3-4 defense, Floyd could break into the top 15 of the draft if he can keep up this level of performance through the remainder of the combine and his pro day.
For someone to be this quick off the line at his size is incredible, and no doubt coaches will be keeping a close eye on him in the next few months.