---
Australian man wants someone to watch Arsenal while he sleeps.
An Australian Arsenal fan is offering to pay one lucky football banter-merchant $150 to watch Champions League football.
"Dino", 27, posted an ad on Gumtree in the hunt for someone to assume his profile on social media – which will include engaging in "strategic flirting" with women, trolling football celebrities on twitter and practising general banter during the Gunners' European matches.
Unfortunately for Dino, his job in the legal profession requires that he starts work at 7am so he is unable to watch, and be online during, Arsenal's Champions League matches which kick off at 4.30am Aussie time.
Essentially, Dino wants someone to act exactly like him while he sleeps.
Are you the right person for the job? Dino's ad is below…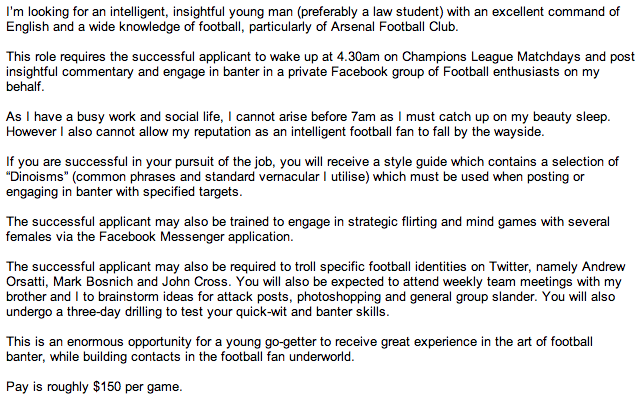 Dapatkan Arsenal rumor transfer dan berita dalam Bahasa Indonesia di fanatix ID!