---
Chelsea manager Jose Mourinho caused a stir, perhaps intentionally, when he intimated yesterday that Arsenal were trying to buy the Premier League title.
Arsene Wenger has often been accused of being a reluctant spender, but Mourinho gave the media a reminder of some of his counterparts priciest recent purchases.
"If you put Mesut Ozil plus Alexis Sanchez, plus Calum Chambers, plus Mathieu Debuchy you will maybe find a surprise," Mourinho told reporters "They have just bought a fantastic goalkeeper [Petr Cech, from Chelsea] and that is a position which is very important in a team."
The Gunners have loosened the pursestrings somewhat after years of bargain buying during the development of the Emirates Stadium, breaking the £30m barrier on individuals in successive summers.
But the remarks, from a manager who has long benefitted from Roman Abramovich's chequebook, and also had free rein to spend while in charge of Inter Milan and Real Madrid, stunk of hypocrisy.
So was the Portuguese just playing mind games ahead of this Sunday's Community Shield clash between the London rivals at Wembley, or did he have a point? This graphic from Sky Sports suggests so: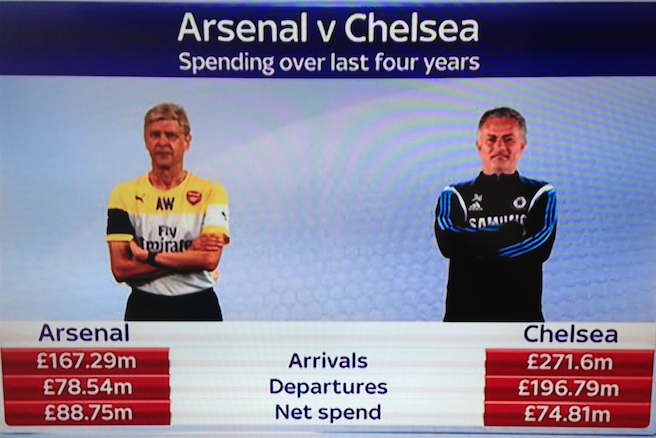 Although the Blues have spent over £100m more than Arsenal over the last four years, they have recouped nearly £200m selling the likes of David Luiz, Juan Mata, Romelu Lukaku and Andre Schurrle.
Their outgoing business has been so good that Chelsea's net spend since 2011 stands £14m less than the Gunners, who have received under half the amount in transfer fees than they have paid out.
Chelsea do have a more reckless approach to splashing the cash. While Arsenal are only prepared to sanction big-money deals for proven talent such as Ozil, Sanchez and Cech, their Stamford Bridge rivals seemingly pay up and think later, as the recent signings of Juan Cuadrado and Filipe Luis prove.
But, in the last four years, Chelsea have won the Champions League, Europa League and Premier League, and Arsenal only two FA Cups, so it is difficult to argue that the Blues have not got more value for money.
SEE MORE:
Premier League 2015-16 table prediction: Arsenal DETHRONE Chelsea, Liverpool FAIL, SHOCK relegation
Monday's sport in pictures: Man United UNVEIL new signing, Arsenal SUPERSTAR back in training
Celebrity football fans: PORNSTAR Man Utd lover, ROYAL Arsenal supporter & Chelsea-mad ACTOR in top 10