---
Arsenal attempting to sign one of two top quality South American international strikers this summer.
Arsenal still retain hope of signing a striker this summer, with Real Madrid star Gonzalo Higuain and Luis Suarez of Liverpool top of Arsene Wenger's transfer shortlist according to BBC reporter David Ornstein.
Arsenal pursuing Higuain & Suarez in hope of signing one. No fee agreed on Higuain, probably need to pay £40m release clause for Suarez #afc

— David Ornstein (@bbcsport_david) July 12, 2013
Whilst the BBC claim that Uruguayan ace Suarez has a minimum fee release clause of £40m, Higuain's price tag is less clear.
Initial reports suggested that the Gunners were hopeful of doing business for the Argentina international forward for £22m (approximately €25.6m), but Real Madrid president Florentino Perez has stated that more than €30 million will be required to sign the player, dissuading Juventus from bidding, and prompting them to instead move for Carlos Tevez of Manchester City.
Suarez and Higuain are very different types of player, and each would offer the Gunners different qualities up front.
We've evaluated the strengths and weaknesses of Suarez and Higuain below.
Gonzalo Higuain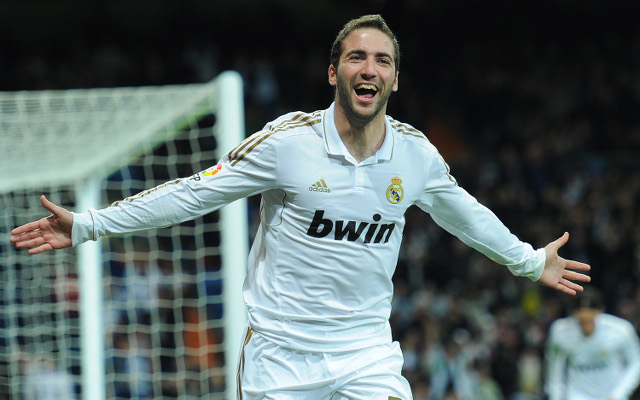 Strengths:
Gonzalo Higuain is first and foremost a finisher. In an Arsenal squad still characterised by their endless passing and reluctance to shoot, the Argentine could add crucial end product.
The 25 year-old has scored 122 goals in 266 games for Real Madrid, despite sharing the striking role with Karim Benzema and as a result many of his appearances being as a substitute.
He has scored 14 goals from 44 shots in La Liga this season, and that 32% strike rate makes him twice as effective as the average striker.
In his previous season, he managed 22 goals from 51 shots, meaning he scored with an incredible 43% of his efforts.
Higuain has brilliant movement off the ball, possesses better build-up play and pace than he is usually credited with, and could well form fine playing partnerships with the likes of Santi Cazorla, Theo Walcott, Lukas Podolski and Jack Wilshere.
Weaknesses:
Not accustomed to Premier League football, Higuain may require a period of adaptation before he is a reliable goalscorer in England – particularly in getting used to the physical aspect of the game.
The Real Madrid striker is not as good a dribbler or creative player as Suarez, and does not possess the remarkable work rate of the Liverpool star.