---
The Gunners may look a little light in attack but a big name may not be needed.
Despite the great start Arsenal have made to the 2013/14 season there is still an underlying expectation that they will slip up.
Gone are the days of expected Gunners dominance and this is largely pinpointed to the fact that the club lack strength in depth.
An area that is significantly lacking is up-front, where Olivier Giroud has been used as the main striker, with only Nicklas Bendtner and Yaya Sanogo as backup.
As a result the north London side have been linked with several 'big names' in the January transfer window, with Liverpool's Luis Suarez (Daily Star) and Karim Benzema of Real Madrid (Daily Express) among them.
Yet manager Arsene Wenger should be wary of making expensive attacking acquisitions in the New Year, despite that seeming like the obvious choice.
Three of the side's best performers this term, Giroud, Aaron Ramsey and Wojciech Szczesny, have one thing in common – Wenger was the only one who stuck by them during poor form last season.
Whilst even the faithful at the Emirates Stadium were on the trio's back, the Frenchman put faith in them and this pledge of confidence and loyalty is now paying dividends.
Giroud in particular is relishing as the lone striker, being heavily involved in all aspects of team player and being sharper in front of goal; with 10 strikes already this term.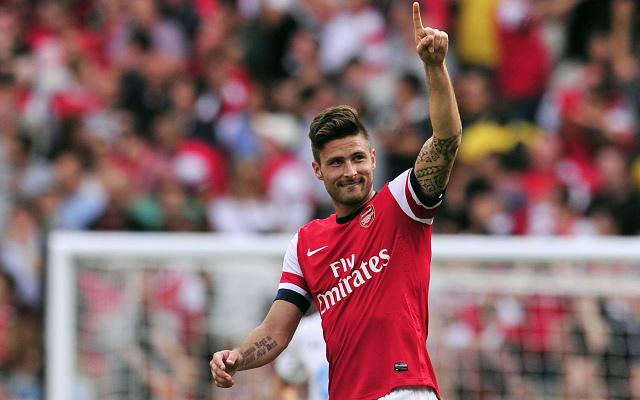 There is a worry that any injury to the 27-year-old would have disastrous consequences, although many forget that Lukas Podolski has played as a striker for much of the German's career.
Giroud is a player that needs to be given self confidence and signing a forward with a bigger reputation will just undermine that.
Wenger has created a superb, if sometimes precarious, balance at the club and should therefore ignore the calls from the stands to bring in Benzema or Suarez.
Not only does it make financial sense, but as any footballer with potency for a cliche will tell you – confidence and form is everything.
Signing 'big names' is not always a bad thing – as seen by the £42.4m arrival of Mesut Ozil – but the 64-year-old needs to pick and choose the moments.
Watch the top 10 best Arsenal games of all time.
Read more Arsenal transfer news.