---
Newcastle Knights star never to play the game again after horror accident.
On a day where plenty of big news hit the wires in the NRL, all of it shrunk to the size of a grain of sand in importance compared to one.
Andrew Fifita lost a deal with the Bulldogs, Nathan Tinkler lost the keys to his piggy-bank and the usual run of the mill injuries and suspensions were doing the rounds amongst NRL fans on Monday afternoon.
That was until the news that Alex McKinnon will, most likely, never walk again.
Just let that sink in for a second.
At just 22-years-old, with the world at his feet, playing a game he loves by being a sensational athlete, all being taken away from him in a split second when he was driven head-first into the AAMI Park turf.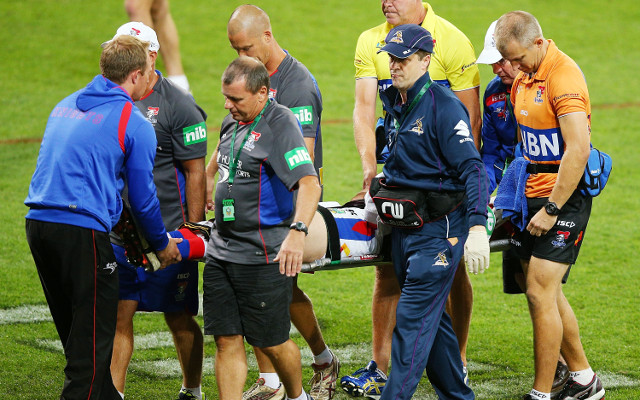 It is in this cold, harsh glare that we as fans, media and supporters of the NRL and other contact sports realise that they are indeed, just games.
That despite millions of dollars and thousands of people's futures being symbiotically attached to the game, it remains just that, a game.
That is the biggest lesson we can learn all of the Australian public continue to send their best wishes to McKinnon and his family at this tough time.
Ever since the former Aberdeen-born player was taken from the field last round against the Melbourne Storm, the Knights as a club have done a sensational job finely balancing the need to pay tribute to one of their most likable players, keep media informed as to his progress while also respecting the privacy of his family at their darkest hour.
The #RiseforAlex campaign used social media for good, finally, as thousands turned out to see their side thrash the Cronulla Sharks 30-0 at Hunter Stadium.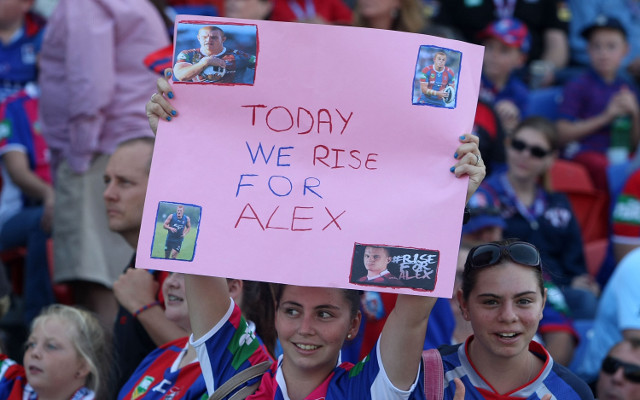 However, now the Knights and McKinnon could be given the worst possible news, what now?
While there will be a degree of eulogising, which fanatix realises it is participating in as well, we have to remember one thing, Alex is not dead.
Don't misunderstand what is being said.
The likely loss of McKinnon's career is tragic having shown he was going to be a first-grade footballer of some repute for at least the next eight years.
While many players are happy to be in the limelight, McKinnon was the  type of player every team needs in that there was no job too big or small in a game, he'd attack both with just as much zeal.
And Newcastle coach Wayne Bennett's moving column to McKinnon before they played the Sharks, shows just how highly he is thought of by arguably the best coach and mentor to young men Australian rugby league has seen.
So all of that adds up to Alex not being lost to us forever.
The McKinnon family still have their son in spite of the fact his and their lives have taken an unimaginable detour that will take some time for them to find their way back to the main road that they thought was their life plan.
Now comes the necessary duty of care from the NRL.
The ruling body will only get one chance to make sure one of their employees is given everything he needs to try and live as normal life as possible, if his career is ended just as it was beginning.
The Men of League foundation, which has done stellar work for many former players, will also be crucial in this process.
However, one player who could be forgotten in all of this is Melbourne's Jordan McLean.
His intervention in the tackle that saw McKinnon speared into the ground is, allegedly, the main reason for his injuries.
McLean will get to have his day in court with a judiciary hearing set to convene sometime this week, in light of the seriousness news for McKinnon's condition, it is unlikely he play again any time soon.
However, calm and due process is what is needed at this time when emotions are running high and fans of the Knights and McKinnon could be calling for blood and McLean to be made an example of.
After all, the Storm forward would not have intended this to happen at all, and would be feeling just as sick in the stomach, morose, than the rest of us for having played a direct part in the accident.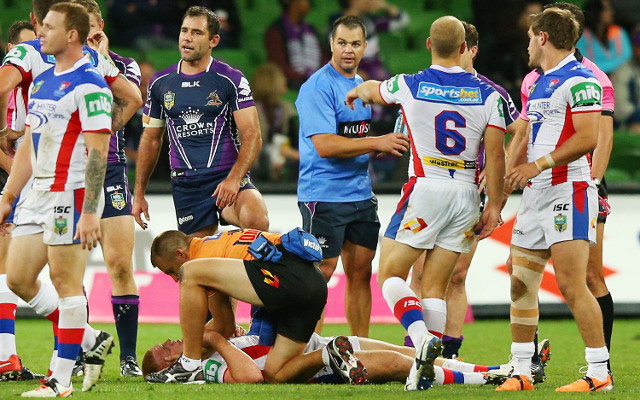 Because, no matter what is said at the judiciary, that is what it the tackle was – an accident.
The look of distress on McKinnon's face in the aftermath of the tackle when he knew something was wrong was one of the scariest things fanatix has seen covering and playing sport.
So imagine what it what it was like for McLean standing over him.
McLean did not hit McKinnon late, or with a swinging-arm or eye-gouge him or kick him while he was on the ground.
It was not a premeditated action to try and spear-tackle McKinnon, it was merely an act of trying to get a player to the ground as quickly as possible, one that is seen dozens of times every weekend in the NRL.
But it is unfortunate that forces applied at the right angle and speed, saw the resulting injuries to the Knights player.
Perhaps some good will come from McKinnon's injury and the NRL could look to change the standing rules in relation to gang tackles.
Though that may be hard as they have been a fabric of the game for more than 100 years and as shocking and heartfelt the tributes have been for McKinnon this past week, even they do not have the power to change some things in the game.
However, just four weeks into the NRL season, a competition that is one of the most popular in Australia and is the pinnacle of rugby league in the world, and it has been reduced to seemingly meaningless contests of 26 players, a ball between some posts.
That is how it feels when you think of McKinnon lying in his hospital bed, wondering, if he will get to walk again – much less play the game he loves.