---
The 2015 NFL Draft is loaded with talented wide receivers who have the talent to be drafted in the first round, including Amari Cooper and Kevin White.
Sports video app
2015 NFL Draft: Top 5 RB prospects, Melvin Gordon and Todd Gurley lead saturated class of backs
(Images) 2015 NFL Draft: Top 5 QB prospects, Jameis Winston the only sure thing this year
This class even has the potential to match up with the 2014 class, which was filled with instant stars, including Odell Beckham Jr.(New York Giants), Sammy Watkins(Buffalo Bills), Mike Evans(Tampa Bay Buccaneers), Jordan Matthews(Philadelphia Eagles) and Kelvin Benjamin(Carolina Panthers).
The 2014 class also included other receivers with Pro Bowl potential, such as Davante Adams(Green Bay Packers), Jarvis Landry(Miami Dolphins), Martavis Bryant(Pittsburgh Steelers), Allen Robinson(Jacksonville Jaguars) and Brandin Cooks(New Orleans Saints).
This year's class also has close to 10 receivers who can be drafted early, and Cooper and White are sure to be drafted in the top 10.
The depth makes it difficult to name the top five receivers, but here is a deeper look into the five best wide receiver draft prospects.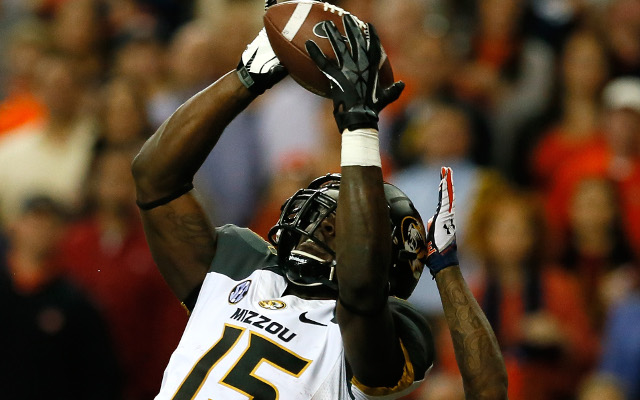 5. Dorial Green-Beckham, Oklahoma
Green-Beckham is an interesting case. He never played a single down for Oklahoma after transferring there, due to being ineligible to play because of transfer rules. He was kicked off the Missouri football team due to repeated drug offenses and an incident where he allegedly pushed a woman down stairs, and he has not seen the field since 2013.
However, his potential is sky-high as he came into college as a blue-chip recruit and flashed his potential on the field with 883 receiving yards and 12 touchdown catches in 2013. Green-Beckham's character concerns will weigh him down in the draft, but he will greatly reward the team who drafts him if he can stay out of trouble in the NFL.
Projection: Round 2-3