---
Despite being the best prospect in the 2015 NFL draft, Leonard Williams could fall as low as 3-6 due because of other team needs.
SEE MORE:
Nebraska star DE Randy Gregory fails Combine drug test for marijuana use
NFL draft news: Injured shoulder may prevent DE Leonard Williams from skipping drills at NFL combine
Shane Ray misses 2015 NFL draft for drug program after marijuana possession
The NFL draft has dealt some sensational defensive lineman over the past few years – arguably more at that position than any other over the last five years: J. J. Watt, Muhammad Wilkerson, Marcell Dareus, Robert Quinn, Ryan Kerrigan, Cameron Jordan, Justin Houston – and that's just from 2011. Fast forward to 2012 and it's Dontari Poe and Damon Harrison. Then in 2013 it was Sheldon Richardson and last year it was Aaron Donald.
The 2015 NFL draft has plenty of talents but not a lot of "money-in-the-bank" prospects among defensive linemen, but one prospect literally stands head and shoulders above the rest.
Here is a look at the five best DL prospects in the 2015 NFL draft: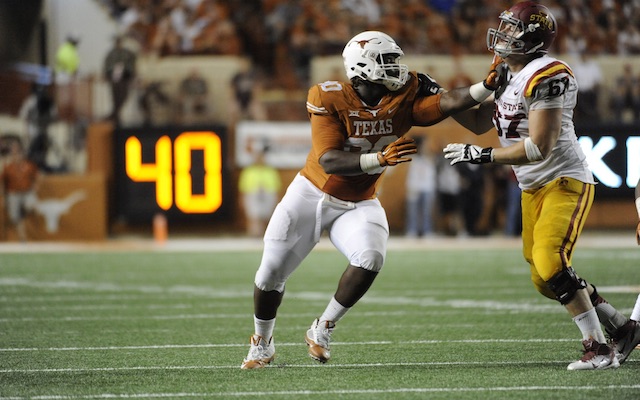 5. Malcom Brown, Texas
A prototypical DT, Brown is a lifetime football player who has played since he was just seven years old. At 6'4″ and 320 lbs there are very few offensive lineman who will consistently be able to take Brown off his massive feet.  He's an excellent run stuffer with just enough speed to reach the outside and chase down a RB when he gets inside. He's no slouch in the passing game either, racking up 6.5 sacks and 14 tackles for a loss in 2014.
Projection: Late-1st round