---
Sherwood enjoys a joke with a vocal fan as he takes charge of his last Spurs game before harsh sacking.

Tottenham Hotspur brought their season to a close by beating Aston Villa 3-0 at White Hart Lane on Sunday.
The game is likely to be Tim Sherwood's last in charge of Spurs, as chairman Daniel Levy is reportedly keen to install a new head coach before the start of the next campaign.
Well, Sherwood was briefly replaced in the dugout during the win over Villa, as the former midfielder exchanged some banter with a season-ticket holder.
The supporter, Danny, was called down to the touchline by Sherwood after repeatedly shouting constructive advice from the stand.
Sherwood then gave Danny his Spurs gilet and told him to "sit in the hot-seat".
Danny told BBC Sport: "It was a great moment and something I will never forget. He's not frightened to talk with the fans and all season we have had good banter with him.
"During the game I called a couple of substitutions and he just so happened to make them. I also called him to put young Alex Pritchard on which he did and he said, 'you know what, you might as well come and sit in the hot-seat'.
"I thought 'why not?' It was just surreal. I didn't know if I would get in trouble, but I'm a lifelong Spurs fan – not many people can say they have sat in the manager's seat while the Premier League is going on.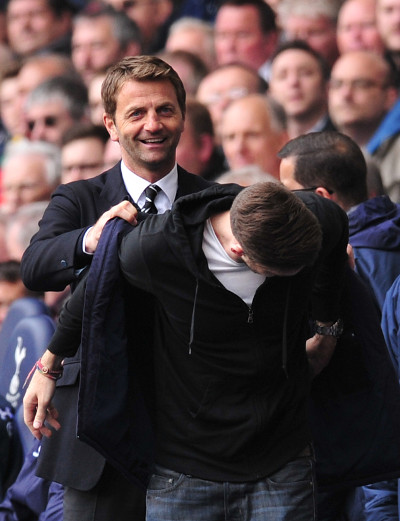 "To be fair, I didn't take the gilet off, but he told me I could keep it, and he shook my hand and patted me on the back."
Sherwood is expected to be sacked by Spurs next week, despite statistics suggesting that he is the club's most successful Premier League manager ever.
He has guided Tottenham to 13 victories in 23 top-flight games, giving him a win percentage of 59.
Andre Villas-Boas – 54 per cent – is second on the list of Spurs managers ranked by their Premier League win ratio, while Harry Redknapp is third with 49 per cent.