---
When will football players learn this is not a good idea.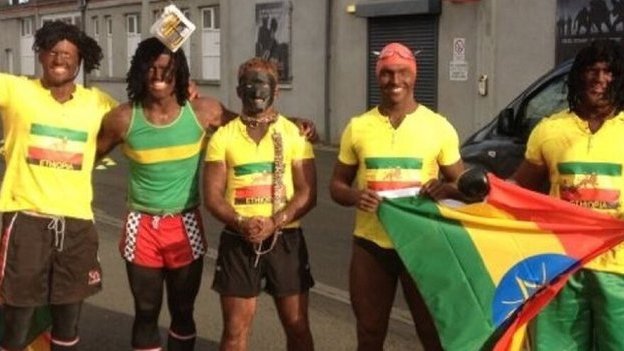 Ulster Rugby Club has been forced to apologise for five of their players appearing in a photo with black faces and bodies and holding an Ethiopian flag.
The stunt was as part of an Olympic-themed fancy dress party two years ago, but the photo only recently caught the attention of the public when it appeared on Paddy Jackson's Twitter profile.
Other Ulster and Ireland international players caught up in the stunt are Chris Henry and Andrew Trimble, Michael Allen and former Ulster player Paddy McAllister.
The photo (above) has now been removed from social media and Ulster has apologised for any offence caused.
"It was not the intention of the players to cause upset and the photograph has since been removed," the club said.
Joseph Ricketts, from ACSONI (African and Caribbean Support Organisation Northern Ireland), told Good Morning Ulster that the photo was "deeply offensive".
"I am shocked and appalled by this irresponsible behaviour," he said.
"It's worse than bad taste. One of the characters was seen with a chain around the neck, which mimics the most awful period in history for black people.
"It's nasty and people who have seen it are very appalled by it."
The Irish Rugby Football union have spoken to Ulster about the matter and are satisfied enough has been done to address the issue and no further suspensions are expected.