---
Everyone seems to have an opinion on the Welshman's future.
The future of Gareth Bale is dominating the headlines as the Tottenham Hotspur star is continuously pursued by Real Madrid in what is likely to be a world record bid.
Despite a reported £85m bid being submitted for the winger on Tuesday, Spurs chairman Daniel Levy is looking to hold out for an eye-watering £125m, according to the Sun.
Relations between the two clubs are not great after the controversial sale of Luka Modric to Madrid last summer, when Los Blancos endlessly declared interest in the Croatian and in the end the midfielder's head was turned.
Levy is still unhappy about the way the Spanish giants conducted themselves in that transfer saga and reports in the Evening Standard state that Madrid in fact still owe Tottenham money from the £33m Modric deal.
Whilst on the subject of the 27-year-old, reports on Tuesday night emerged stating that Modric could be included in a deal for Bale, which would see the player return to White Hart Lane after just 12 months in Spain.
Either way manager Andre Villas-Boas is keen for Spurs not to make the same mistake that has been made previously with the midfielder and Dimitar Berbatov, when the players were sold late in the window and not enough time was given to buy replacements.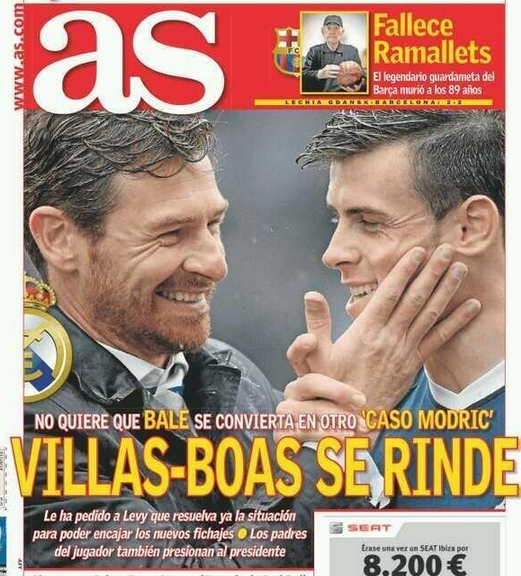 The chairman is hoping that by raising the asking fee for Bale to astronomical levels then even Los Merengues will simply be out-priced.
However, the Daily Mail says that the 24-year-old has also had his head turned by Madrid and in order to accelerate the move has handed in a transfer request.
There reports come after the La Liga outfit's new sporting director – former player Zinedine Zidane – has weighed in with his own comments about the way Spurs are handling the affair.
"If he has expressed a desire to join Madrid then Tottenham should give him permission to speak with us," the World Cup winner said.
"The chance to play for Real Madrid might only come around once in a player's lifetime – and it is understandable that Gareth doesn't want to miss out on it."
Even Liverpool legend Ian Rush has given an opinion on the Bale saga, with the fellow Welshman also earning a high profile move abroad to Juventus in the 1980s – which was unsuccessful.
"I feel the ideal age to play overseas is when you are nearer 28. You can cope much better then," Rush wrote in the Telegraph.
"I was 25 when I left Liverpool for Juventus and it was difficult, particularly at first. The first six months were the toughest. It was very a case of "you're on your own now" and having to sort everything for yourself."
Whilst it may seem that the media in England are going mad for the story, over in Spain it has become even more of a furore.