---
In the 1981 Ashes Botham produced an all-round display forever remembered by England fans.
The year is 1981 and perhaps the most brilliant English cricketer of all time, Ian Botham, had just been named captain of the national side as the Ashes series between England and Australia was about to begin.
In Botham's first 25 Tests the all-rounder had scored 1,336 runs with an average 40.48 and taken 139 wickets at an impressive 18.52.
The Somerset ace seemed the ideal choice to skipper the Three Lions, but with the Ashes series in England 1-0 to the Aussies after two Tests Botham stepped down from the position.
The all-rounder's form had dropped as a direct result of the new pressure and as the home side prepared to restore the series at Headingley in the third match, the English were in disarray.
Australia won the toss at Leeds and captain Kim Hughes opted to bat – a decision that somewhat baffled the English – before the tourists began to make a steady start on day one.
Botham still looked out of sorts and dropped two catches in the field, whilst with the ball seemed to lack the sheer power and ruthlessness that made him so great.
Yet in the final session of the day and after a word from veteran Mike Brearley, the all-rounder unleashed his talent and what was looking like a solid knock from the Baggy Greens was ripped apart as Botham took 5-35.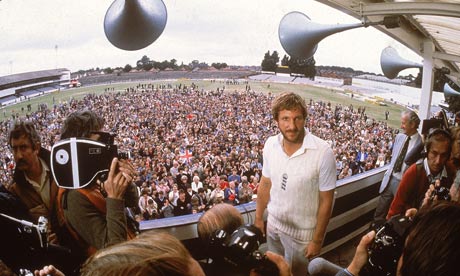 Photo courtesy of the Guardian.
The visitors had already scored well though and declared at 401-9, before the Three Lions collapsed on day two, all-out for 174 with Botham top-scoring with 50 off 54 balls – although giving away his wicket cheaply.
Hughes made England follow-on and when day three saw the home side once again give their wickets up too easily, all looked lost at 135-7 – Botham again the last pillar of defence.
But bowlers Graham Dilley, Chris Old and Bob Willis all provided great knocks from the tail-end and Botham made it to 149, with England eventually leaving Australia with an extremely attainable 130 for victory.
Willis, who had been criticised greatly in the press, was inspired by the all-rounder's performance and whilst Botham managed one scalp the paceman took 8-43, including the Aussies last man Ray Bright with a yorker to secure victory.
The bowling attack had done their job and in Botham an English hero was confirmed.